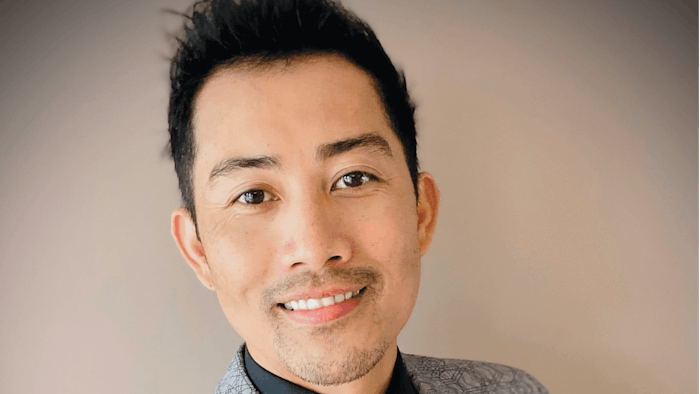 Lorenz Medina is a Philippines native who migrated to the United States when he was 16 years old. Upon graduating high school, Medina joined the United States Marine Corps and served in Iraq. After returning, he began working in his local nail salon to find a sanctuary from his PTSD and to provide for his family. He says that doing nails saved his life. Now, being a nail artist is his passion, and teaching others is his drive. See what else inspires him to continue creating.
1. Nature
"We live in this complex world of infinite possibilities. Our senses are being stimulated by our surroundings constantly and effortlessly. Nature has such mesmerizing patterns, fractals and color combinations that provide amazing inspiration. Do yourself a favor. Buy a microscope, and look at nature from that point of view. Now put that on nails."
2. Different Cultures
"To understand yourself, you have to understand who you are. Different cultures impact me daily, due to the colors and textures as well as how people wear them. As a great nail artist, you have to understand your client, their personality and how they move their body as well as how they talk. These little things make your clients feel like they are on the big screen."
3. Fantasy Worlds
"Ever since I can remember, I have always had a thing for fantasy worlds. I am attracted to the architectural design of these buildings and castles as well as the worlds where people seem to all live in bonsai trees. I love to create something [like that] when I encapsulate."
4. Music
"Music is one of those things that can influence your next set [based] on how you are feeling that day. When you are sad, you listen to the lyrics more, and for me, it magnifies the sadness of the song, [so] I create something dark and misunderstood. In contrast, the beats [have] smooth transitions and the flow of the artist goes like butter and syrup on top of a pancake. Among my favorite [artists], if I want to be in the zone, are Rameses B, Blackmill, Lost Frequencies, Biggie, Koffee, Davido and Romeo Santos."
5. Ocean
"Growing up near the ocean in the small island in the Philippines carved great memories. Underwater designs are always my favorite things to do. I see the ocean as a large nail bed. Everything underwater is just encapsulated."
Check out some of his favorite nail sets he has created from his inspirations in the September/October 2021 issue of our digital magazine.