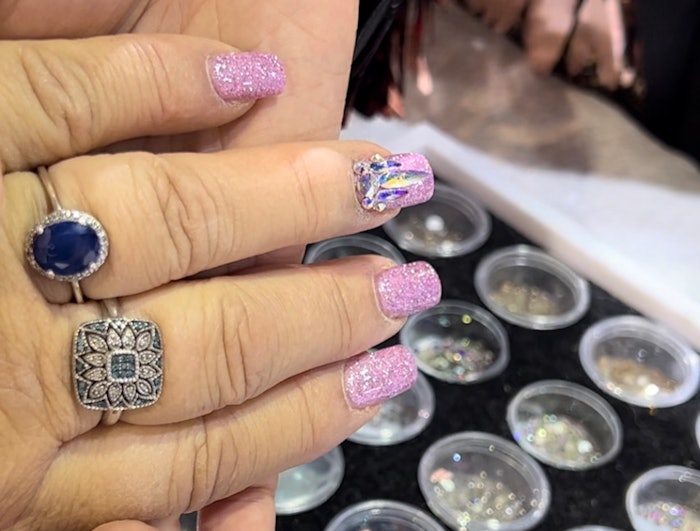 America's Beauty Show was this weekend, April 15-17, 2023, in Rosemont, IL. 
There was education, product demos, salon items to shop for and so much more. If you missed it, here's a recap of what some of our favorite nail brands were up to at the show.
1. Dreamtime Creations 
Dreamtime Creations had nail artist Tino Vo (@vo.tino) sharing how to apply their nail gems. He created stunning nail art for attendees on the show floor, including our own Shamella Anderson!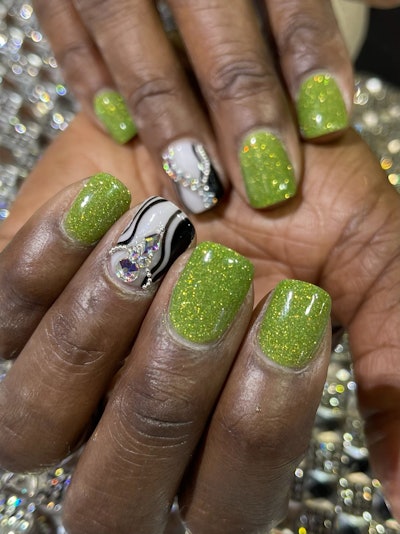 2. Beauty Innovation 
Beauty Innovation spotlighted their new liquid chrome collection, with colors in silver, chameleon, sunset and midnight.
3. Mia Secret 
Mia Secret debuted their Granite Effect Clear Top Gel and Rubber Gel in Rose Petal, Pink Peony and Pink Amaryllis.
4. Gelish 
We have to keep our lips tightly closed on this one, but Gelish spotlighted a new collection that they will soon be launching. They also featured a variety of their nail colors, soft gel tips and more. 
5. Artistic Nail Design 
Artistic Nail Design brought a variety of their gorgeous nail colors and dips on to the show floor for attendees to purchase and fawn over. 
6. Shine and Design 
Shine and Design spotlighted their T.A.P Hybrid Gel Nail Enhancement System that can be applied as an overlay or used to sculpt a full set of nails. They also showcased their new T.A.P Hybrid Bure 90W Gel Lamp. 
7. Kokoist USA 
With chrome being a popular, current nail trend, it's no surprise Kokoist USA has their own chrome that dazzles. Available in six shades, the Liquid Mirror Set is a dust-free evolutionary formula that when rubbed in, leaves behind a beautiful chrome effect on the nail. Depending on your base color, the Liquid Mirror will add a different nuance to your set by changing the atmosphere of your nail.
Nail artists @thenailwhisperer, @nailthoughts and @paolaponcenails were also in attendance supporting the Kokoist team with demos and tutorials on the show floor. 
8. Beetles Gel Polish 
Pastels are the trending color this spring! Beetles Gel Polish displayed plenty of nail colors perfect for the season on the show floor. 
9. MG Mary Galarza Nail System LLC 
Dedicated to the creation of unique acrylic glitters and colors for all nail techniques, MG Mary Galarza Nail System LLC showcased their Polygel Nail Kit. The kit includes four polygel colors, rubber base coat, diamond top coat, nail file, nail dual forms, nail form 200pc paper, 2-in-1 gel brush and spatula and holographic bag. 
10. Cuccio 
Cuccio showed off their entire range of products from nail colors, cuticle oils, hand lotions and more. They also showcased their new Paradiso collection, featured in Nailpro's March/April magazine.