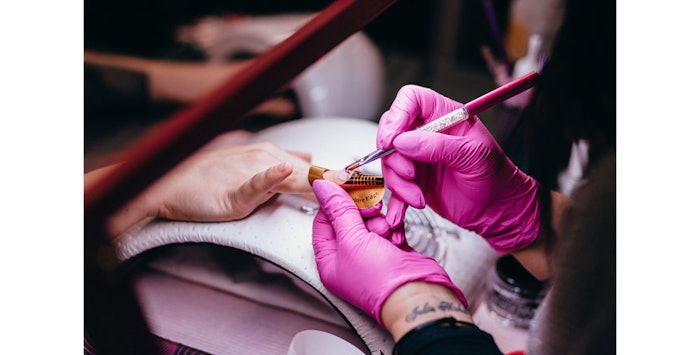 The Nailpro Nail Show 2022 at the San Jose McEnery Convention Center in San Jose, California, from Aug. 20-22, 2022 is fast approaching! Workshops are taking place Saturday, Aug. 20, throughout the day.
By now, you are probably packing your suitcase and thinking about what items you want to bring with you to the event. If you registered for any of our Workshops, you are going to have to pack your own items to use as you participate in the class alongside the speaker. 
Below is a list of items our speakers recommend you bring to their Workshop. For more information about each of the Workshops, you can visit our official Workshop schedule, and find more info on nailproshow.com.
Perfecting Your Shape: Techniques for Crisp, Neat and Consistent Results
Speaker: Mia Smith, licensed nail tech 
Session Time: 8–11 a.m. 
Items Needed:
Standard nail tips
Nail files
Nail glue
Liquid monomer
Acrylic dipping powder
E-file
Sanding bands
Nail brush
Regular fine grit buffers
3D Encapsulation
Hosted By: Tony Ly, owner/nail artist, Designed by Tony Ly 
Session Time: 11:15 a.m.–12:45 p.m. 
Items Needed: 
3D brush
Nail tips
E-file
Nail drill
Clipper
Buffer
Dappen dish, mixing bowl or cup for acrylic
Nail glue 
Gel Overlay and Timeless Gel Designs
Speaker: Jade Tang, nail coach, nail artist and founder, The Imperial Room LLC
Session Time: 1:15–4:15 p.m. 
Items Needed: 
White gel paint
White soft gel
Nude soft gel
Clear soft gel
White gel polish
Makeup wedges
Clear tape
Liner brush (7-11 mm)
LED curing lamp
Gel brush (oval/flat)
Lint-free wipes
Art palette
Alcohol 70-90%
Acetone 100%
Mini manicure brush
Gel base coat
Gel top coat
Foil
Mini glass
Used flat brush
100/180 grit nail file
180/240 nail buffer
Cuticle nipper
Cuticle pusher
E-file
Cuticle bit
Cuticle oil
Desk lamp
Non-acid primer
Dehydrator
Short nail swatches
Getting Press-Ons To Fit Properly and Last
Speaker: Julie Kandalec, celebrity manicurist and owner, Julie K Nail ARTelier and Julie K Nail Academy
Session Time: 4:30–6 p.m.
Items Needed: 
180 grit file
220 grit file
Fine padded buffer
91-99% isopropyl alcohol
An old or cheap gel brush
Nail adhesive
Double stick nail tabs
Which Workshop are you attending? Register now!