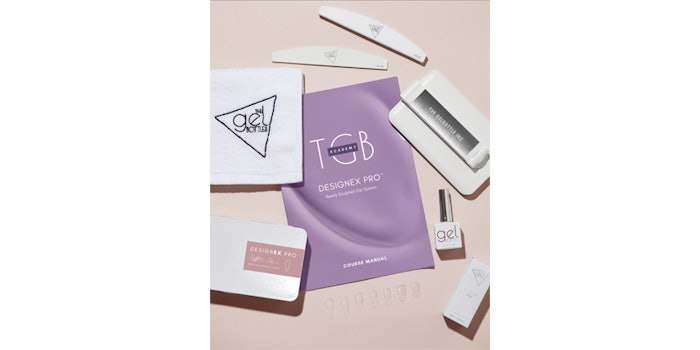 Courtesy of The GelBottle Inc.
The GelBottle Inc.'s DesignEx Pro gel extension system was designed to deliver an extension service in under 30 minutes.* 
The starter kit comes with a USB flash lamp, All-in-One BIAB, 100/180 half-moon nail file, 120/180 half-moon nail buffer, DesignEx Pro portable carry case and the choice of gel tips with the option to select up to 14 boxes of DesignEx Pro tips per starter kit.
"Thanks to the prebuffed gel tips and a simplified application process with a specially formulated low-HEMA builder gel, the time it takes to complete a set is significantly reduced. What has also been creating a lot of noise on TGB's Instagram is the unprecedented flexibility and the on-trend shapes of the tips," said Michael Hollman, president and CEO of The GelBottle Inc. "Watching the Reels closely and on repeat, it appears to be pure magic (or witchcraft) when the tip just blends seamlessly with the natural nail. Catering to a wide variety of sizes and adding even more later this year, this gel extension system has become a serious rival to other industry-leading brands.

"Needless to say, the four-week wear is another great selling point for those who are looking for long-lasting results. Don't take our word for it! Come meet The GelBottle Inc. at the Nailpro Nail Show and see one of their DesignEx Pro demos. With this next-gen extension gel system, you will be upgrading your services list in no time!"
Want to upgrade your show experience? As one of the Master Challenge sponsors, The GelBottle Inc. will be contributing products to the competition kits. Consider registering today for the Master Challenge** to discover which of their product(s) will be featured that you will get to take home after! The deadline to register online is Aug. 15, 2022, and there will not be on-site registrations.
Not quite ready to compete yet? Attend the Nailpro Show, and check out The GelBottle Inc. at booth 127 on the show floor.
*30 minutes includes prepped nails to complete application.
*Registration for the Master Challenge includes a two-day expo hall pass to the Nailpro Nail Show.