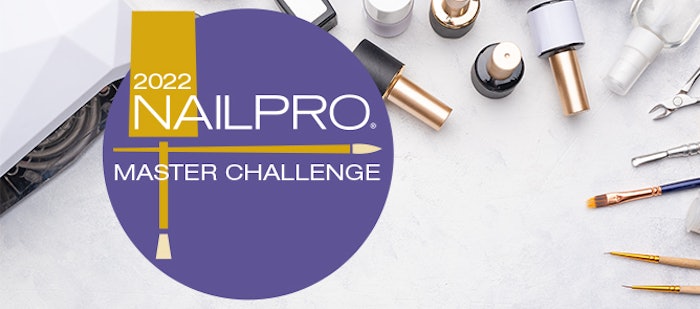 Courtesy of Nailpro
The Nailpro Master Challenge is taking place Aug. 21-22, 2022 at the Nailpro Nail Show at the San Jose McEnery Convention Center in San Jose, California. We are excited to announce that registration is now open!
The challenge is open to licensed nail professionals only, and participants can only register for two competitions. All licenses will be verified by BeauticanList. By submitting proof of licensure, you consent to receiving further electronic communication from BeauticianList and being onboarded to its system—at no cost to you. 
The registration fee for each competition is US$150, and the deadline to register is Aug. 15, 2022.
The Master Challenge will consist of four competitions:
Hand-Painted Nail Art: Competitors will have 30 minutes to complete an original hand-painted nail art design on tips.
Gel Polish: Competitors will have 30 minutes to complete gel polish nails on a live model.
Sculptured French Acrylics: Competitors will have 45 minutes to complete sculptured French acrylic nails on one hand of a live model.
Gel Design: Competitors will have 30 minutes to complete an original design using gel on tips.
All equipment, tools, products and supplies to be used for the competitions will be organized into identical kits and provided to each competitor by Nailpro. Competitors will not know what is in the mystery kit until the competitions begin, so they should bring their A-game and energy! 
Register now, and find more info like the Rules and FAQ at nailproshow.com.