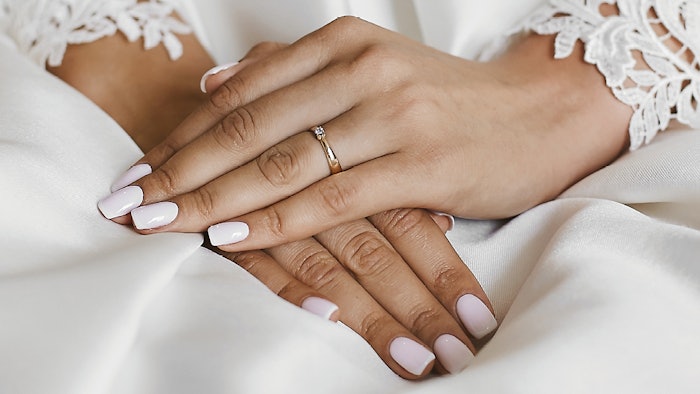 It is such a wonderful day when your client walks in with a face full of joy. "I'm get married," she says.
In your mind, there are a mix of thoughts — you can't wait to take care of her nails for THE day, but you are also afraid to make some mistakes. Her nails will be on every picture and video, and they have to be perfect. In this article, I will tell you how to make a bride-to-be client happy on her big day.
Learn Your Bride's Style
It's important to remember that the nails must enhance the overall beauty and look without outshining the bride or dress. For this reason, you may want to avoid complicated or eclectic designs for your set.
Ask the client if you can see a picture of the dress, shoes or bouquet to create a perfect match. For example, an ivory color of dress could not match nicely with a bright-white nail.
Also, prepare some questions to find out what ideas your client has about her general look for the day. Does she prefer a plain nude color or some little eye-catching details? Do the dress or shoes have some colorful details, sparkles or pattern you can take inspiration from? Is she more comfortable with long or short nails? After this little "interview," you are ready to start!
Make a Schedule
Depending on what your client wants, you may start few months in advance to better prepare the hand and nails. If so, you can start some manicures with exfoliating and hand masks treatments, once or twice a month, and shorten the time as the wedding approaches (depending on the client's skin condition). Also, you can start covering the natural nails with treatments to help them grow and make it easier to create a nice shape.
Unfortunately, a bride-to-be could also come to you just before the wedding. In this case, after the "interview," you may opt for an overlay or extension and give her some aftercare and suggestions to apply just before the big day.
The best time to schedule the client's final appointment before their big day will depend on the treatment you have to make. It could be from few days in advance in case of enhancements or the day before the wedding day in the case of manicure or regular polish.
Ideas and Designs
Most brides are opting to cover their nails or extend them. You may suggest a shape based on the client's hand. For example, a short or chubby hand could match better with medium-long and slender shapes such as almond, oval, ballerina and similar. However, always find a way to make the bride happy. You have to give her the right suggestions, but, at the end, she will choose what makes her feel more confident.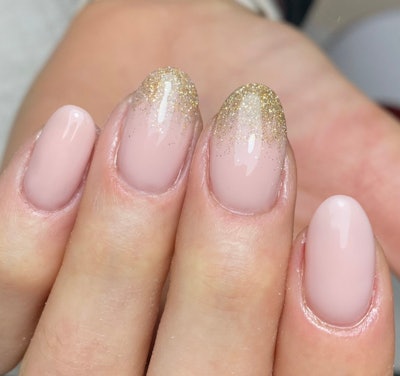 When the shape has been selected, finally you can decide the style, according to the dress and the general look.
For sure, the most requested and timeless are always nude/naked effects, pinks or beiges and the classic white French tip. You can also opt for a very classy baby-boomer/ombrè effect or a full milky white.
To enrich the final result, you can suggest your client to adorn the ring finger. In the end, that will be under the spotlight in lots of pictures.
You may go for just a full bright-glitter nail or a sparkly-fall blending. Also, depending on the bride's personality and accessories, you could create a nail art that matches the dress pattern or a colorful detail to complement with some look detail.
Prepare the Nails
To prepare the hand and nails for this magical day, it is important to make the client understand you need team work. The treatment you carry on at the salon has to be combined with some home commitment. See Bridal Nail Prep Guide for some easy suggestions to achieve the best for her hands. You could also put together little "convenience packs" for brides that can include few manicure, enhancement and pedicure items.
Bridal Nail Prep Guide
Always use protective gloves during cleaning and housework.
Apply cuticle oil daily.
Use moisturizing creams and masks.
Don't bite or play with the nails or cuticles.
Follow the scheduled appointments, and don't postpone them.
Tech Tips and Tricks
Create some samples of wedding nail art to keep at the salon and promote on your social platforms. In this way, the bride will be more prepared and have some ideas of the final result she could have.
Avoid applying 3D diamonds, pearls, jewels or anything that could easily fall off. You may not be able to fix it in time. Instead, use glitter polishes or sugar powders to give a sparkly long-lasting effect without risk.
Make a "test appointment." If you have few months or weeks before the wedding, use one of the appointments to create the most similar design you want to replicate the day of the wedding. This will allow the bride to see the final result with no pressure, and allow you to apply some adjustments if necessary without rushing at the last appointment.
The wedding season is starting! Prepare yourself for the love!
About the Author:
Alice Nali is a nail technician as well as the owner and an educator at AlyNails Italian Academy in London. Visit alynailsitalianacademy.com or @alynails.italianacademy for more information.