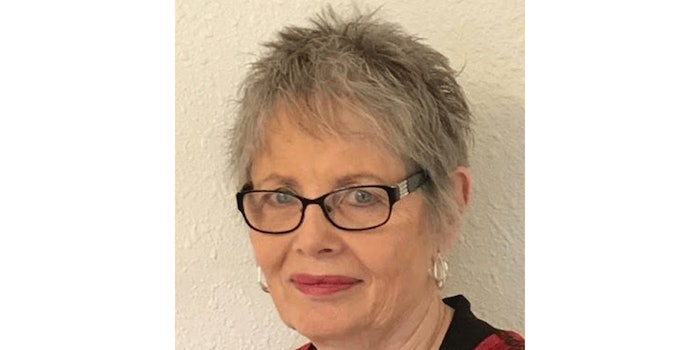 Courtesy of Janet McCormick
Co-founder of Nailcare Academy Janet McCormick talks about how she left the dental industry and applied that experience to become a nail tech and business owner. 
What inspired you to join the professional nail industry?
 "Three things: I no longer wanted to do dental hygiene, and that meant I spent two years defining what I wanted to get into for the rest of my life. 
- A back injury made the work painful. If I had to leave my profession, I wanted to work for myself.
- Nails were new at that time, so there was not as much competition (1978-79)."
When and how did you get started in your career?
"I researched for a business that could use my current work experience.
One on one with the client – [being] 'in charge' of the client
The client looking forward to coming in to [see] the professional (not true in dentistry)
Repeat business with a 'recall system'–they returned and could be reminded to do so

An inventory system for keeping track of products

Licensed by the state to restrict entry

Dexterity skills required–use of expertise utilized in dentistry (small area of expertise, e-file use, recall system, loyalty building, etc.)"
As a female leader/professional, what are some obstacles you experienced, and how did you overcome them?
"At the time I entered, the nail industry was almost 100% female, so few sexist obstacles were there except in the banking system. I used my own money to enter the business, [which meant] no bankers to fight. Over the years, public perception deteriorated toward the nail business. Lack of training in the skills was obvious very quickly. Products were not perfected prior to market. To combat the problems, I learned that expertise outshoots price, which took a while—that was when my business took off.
"Defining what I wanted to do in the industry took time—knowing how to research is important, and initially, I did not know how to do that with reliability. One obstacle I have never confessed before: stealing within the salon—different times, by different technicians, different methods, small and large amounts. I should have not trusted so much, should have had checks and balances in my records. It would have been more difficult the last few years with computers 'watching' everything. I should have known better, and it cost me high dollars over the years."
"Biggest obstacles:
1) Lack of business experience/expertise: I should not have opened my salon upon entering the industry; I should have gotten some practical experience and taken some business courses.
2) My poor marketing skills: The entry of the Internet improved matters greatly, but it was much later."
Have you confronted gender-related roadblocks in your career?
"None, except in financing."
How can women support other women in this industry?
"They need to UNITE instead of competing so continually. There are enough hands/feet for everyone."
Tell me about another woman who has inspired you.
"Vickie Peters. We met early in the industry's development and discussed many times how it could be improved. She was very passionate about it and was a great example to me—and tough."
What is one thing you know now you wish you would have known when you started in this business?
"I wish I had taken the time to learn basic business principles prior to opening my first salon, right out of school. What a nightmare! Besides having to learn how to do nails expertly, I had to learn how to run a business!
What tips do you have for aspiring and budding nail techs?
"Hone your skills. Keep your ego in check, and accept critique. Do NOT compete with your peers for clients. If you are good at what you do, know business basics, become client oriented, and give as much as you get, you will succeed. If you do not pay attention to these attributes, prepare for a bumpy ride."
What other key learnings and practices do you wish you to share with other professionals?
"1. All nail technicians must become client oriented, and learn how to communicate with them comfortably. They should not be just skill oriented, or their clientele will not grow.
2. Key learning? What every service costs and the amount needed above that for the salon to be profitable.
3. When and how to raise prices. Nail technicians do not know even these basics about their business, and that means nonprofitability." 
After receiving your nail tech/beauty license, have you received other certifications? If so, what?
"Product line certifications, esthetics, CPR, ANT, MNT, CWP."
Where do you find education, and how do you continue growing your skills and business?
"Info learned from the industry magazines and shows. Most quality education can also be found by word-of-mouth recommendations or on the Internet. One must continually hone their practical and business skills, or they will become obsolete in the industry."
Related: Women's History Month Spotlight: Fie Pedersen