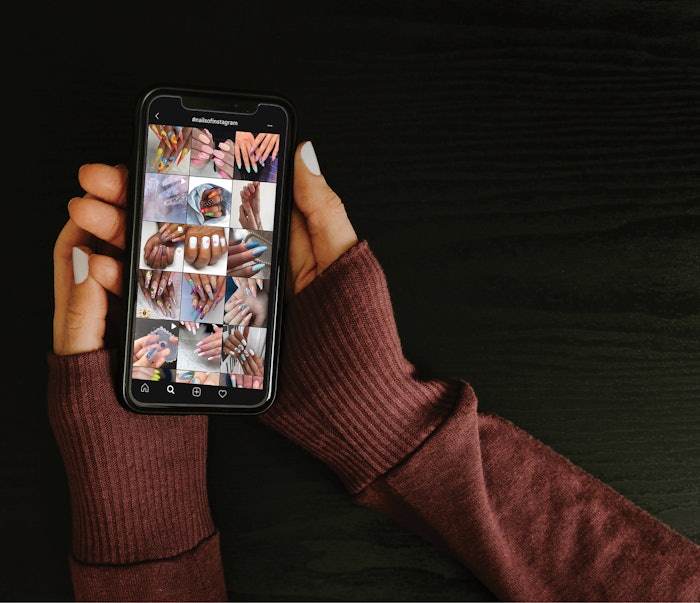 You follow them. You like their photos. You watch their Instagram Stories. You might even want to recreate the manicure masterpieces that you see on their feeds—or at least use the products they showcase. And they are like you: They want to create better, faster, more efficiently and more beautifully—and they're creating the next-level products that help you achieve those goals.
Light Elegance Celina Rydén Signature Series Art Brush Set
Celina Rydén @celinaryden
When Sweden-based Celina Rydén decided to shelve her dancing career and enter the nailscape full-time in 2013, Instagram was inits infancy. But Rydén made a name for herself quickly as one of the few nail artists utilizing the platform at the time. "I dragged all my famous 'celebrity friends' from my dance career to the nail studio and did their nails, which was also the start of my personal branding. I literally faked it until I made it," she laughs.
Six short months later, Sony Music reached out and asked Rydén to do singer Kesha's nails, and before she knew it, Rydén began manicuring recording artists Leona Lewis, Mariah Carey and Little Mix, to name a few. At the same time, she used Light Elegance (LE) products and developed a love for the brand. The relationship grew, and in 2016 Rydén became a LE international educator.
So when the brand approached her to create a nail art brush set, she enthusiastically agreed. "I think we worked on it for about a year. I sent them pictures and instructions about what brushes I liked, and they sent me prototypes to try out," she recounts. "I even hand-counted the bristles on the brushes and told them exactly how many I wanted for each one!"
The result: Celina Rydén Signature Series Art Brush Set. "It's made from a 'painter's point of view,' and I think that's why so many nail techs love them," she says. "I also think that pros can tell how much time, love and effort was put into creating the set."
Exclusive Nail Couture
Max Estrada @kingofnail
Don't let nail competitor and educator Max Estrada's boyish good looks fool you; he's been carefully cultivating his nail career for more than 21years, 11 of which he spentin manufacturing researchand development.
Being equipped with experience in product formulation and ideation certainly primed him for the natural next step: launching Exclusive Nail Couture. Focusing on innovation, Estrada says he set out to create "products that make nail techs' lives easier and help them make more money with less effort," like fast-setting Pink Magic Fast Dry Monomer and premade 1, 2, 3 Go! Soft Gel Full Cover Nail Tips that create nail extensions in 15 minutes flat and last more than two weeks.
Initially, Estrada wanted to manufacture in-house, using raw materials when possible to ensure quality control—no sourcing overseas. After being turned down for bank loans to build a factory, he found an angel investor: a client, who came through with a million-dollar loan that Estrada says he paid back in only three years.
"We're proud to say we're not owned by a conglomerate," he shares of the family-run business. This freedom allows him to pour over every detail, focusing on formulation while interjecting what his 507,000+ Instagram followers love about him: quirky flourishes, like hyper-cute pink packaging inspired by his childhood love of Japanese anime and unique scents (think: Tutti Frutti) that replace the typical odors associated with nail products.
Estrada creates with his followers in mind, communicating with them—often daily. After all, "they're the people who use our products and we want to grow with them. Their needs are our concerns and motivation to make the best nail products in the world."
Pottle
Nettie Davis @nettienailsit
Editorial manicurist Nettie Davis has been polishing nails since the age of 12—so she has plenty of experience deciphering what's missing in the nail game. Frustrated with the mess made when customizing gels, she created Pottle, a gel pot that also functions like a polish bottle and eliminates the need for funnels.
"I needed it for myself, so I figured others did as well," she says of why she brought the hybrid pot-bottle to market. As the sole creator, Davis turned her idea into a reality, designing every inch of Pottle using CAD software, from the cap's lengthy handle that allows "full hand twisting," to an interchangeable applicator for seamless reformulations, to the size of the round base so that it nestles comfortably in your hand.
Even Pottle's mixed metallic finish became a focus. "When I saw how the rose gold looked next to the silver, I thought, 'That's it! That's her,'" she says. Davis believes that Pottle not only serves to simplify gel customization, but it also eliminates waste—of packaging (it's reusable and, thus, sustainable) and product, too. "With our products, you can always get every last drop."
KBShimmer
Christy Rose @kbshimmer
"There are some kids that can color with the same few crayons all day long. I was never that kid," says Christy Rose. Though not a nail tech, Rose has nurtured a love for color in all aspects of life—including polish. After a chance encounter with "tub treats and soap" while on vacation—as well as the encouragement of her husband, Jason, and discontent over a stressful real estate job—she started creating KBShimmer bath items in 2008 as a side hustle.
It was only a matter of time before nail polish followed in 2011. As a pioneer of the small-batch indie polish movement, she notes, "we were one of the first indie polish brands to keep stock at all times"—a maneuver she believes allowed customers to build a lasting relationship with the brand and keep KBShimmer thriving to this day. Classics like Oh Splat!, a white base with glitter, exploded the brand's popularity and proved that indies were pushing the boundaries of polish innovation.
Now, Rose and Jason run KBShimmer full time alongside a small staff, and they have no intention of stopping. "We'll see a beautiful shade of water that needs to be an aqua holo or have a name that screams for a bold red, and we create a polish that matches the inspiration," she thrills. "Most of our products are still made in-house with Jason mixing up each and every batch of polish himself!"
Presto Art Gel Artist Series Tokyo Spice and Con'celectx Britney Tokyo nail brushes
Britney Tokyo @britneytokyo
Her over-the-top hand-painted and 3-D nail designs attract celebrities (think: Ariana Grande) and fawning nail fans alike, but Britney Tokyo knew that she'd really hit "influencer" status when she took home the American Influencer Awards Creative Nail Artist of the Year in 2017.
Just 10 years into her nail career, she's added a few more bona fides to her resume: the creation of her Presto Art Gel Artist Series and Con'celect x Britney Tokyo nail brushes. A long-time Presto user, Tokyo met the Japanese team at the International Beauty Show in Las Vegas and posed a simple question: "Do you have any high-pigment gels that I can use for hand-painting?" The answer: No, but from there the collaboration was born.
"No one was selling this kind of gel," she says of her Tokyo Swag and Tokyo Spice collections, which produce the level of pigment and thickness she desired. "It's especially thick," she explains.
Her partnership with Japanese company Con'celect also came about due to an inability to find what she wanted stateside. "Usually high-quality nail brush companies use animal hair, but Con'celect doesn't," she says.
Now, U.S. nail artists can enjoy high-quality brushes that don't contain animal hair and are comfortable to use—plus, they bare the distinctive Britney Tokyo aesthetic. (She helped design the packaging, as well.) "My brushes have a silicone grip, and they're cute, too!"
Jenny Secret
Jenny Bui @nailson7th
A 23-year nail veteran, Jenny Bui found her niche in the latter part of her career when she came across "bling" nail art in a Japanese nail magazine. "I applied it to my clients and they all loved it! People now know me as the 'Queen of Bling,'" she says proudly. In fact, mega rap star Cardi B turns to Bui whenever she seeks elaborate encrusted tips. (Remember Cardi's 500 Swarovski-studded nails in Pepsi's Super Bowl commercial? That was Bui!)
But as the Queen of Bling's jewels grew evermore crazy and heavy, she noticed that the available adhesive didn't provide the necessary staying power. "That's when I decided I needed to make my own product," Bui says. Her line, Jenny Secret, includes everything needed for securing small and large stones, from Crystal Adhesive to No Wipe Crystal Gel to soak-off UV/LED base and top coats, and has items for pros and amateurs alike.
For Bui, creating Jenny Secret makes sense. "All products—not just nail products—need to be curated by professionals. You can't buy any old equipment for a chef and expect her to perform her best. The chef knows what's best. Same with my products," she relays. After many trials and tribulations, she created what works. "I know what kind of hold and texture a crystal needs to be secured in place," she says—so clients never lose a treasured stone!
Designed by Tony Ly
Tony Ly @tonysnail
With 1 million Instagram followers (as of print time), master nail tech Tony Ly's incredibly precise acrylic extension work and quality education certainly keeps him busy. But Designed by Tony Ly—which includes acrylic, dip and chrome powders, brushes, liquid, activator and more—is a labor of passion and creativity.
"I created Designed by Tony Ly because of my love for my job, creating beautiful nail designs for clients," he shares. Point to a color, and Ly has likely bottled it. In fact, he's created 257 different powders—from gorgeous holographics to glitter-bomb creations to glow-in-the-dark stunners to mirror-like chromes—and he continues to add to the collection practically every week.
Though his library of shades grows exponentially, Ly proudly says that all products are hand-mixed and packaged for superior performance. "Every powder is exciting; there are so many ways to mix and create designs!"
Karie L. Frost is a freelance writer and editor based in Connecticut.