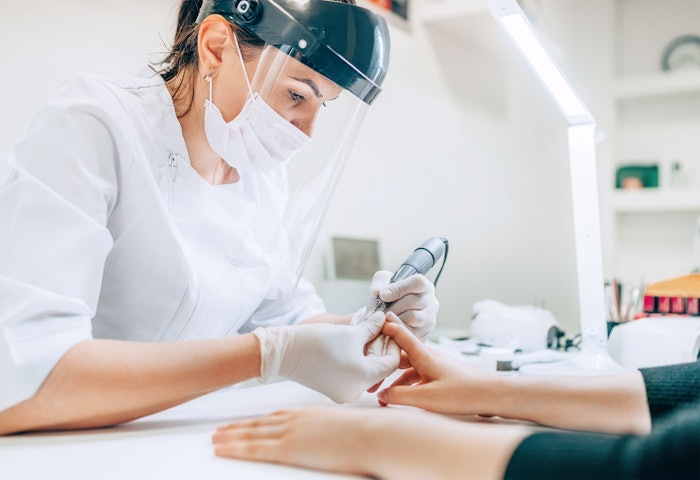 The Professional Beauty Association (PBA) partnered with attorney Laura Lawless for a "legal power hour" to discuss legal guidance on Covid-19. Topics of the discussion included steps to follow when a guest or one of your stylists has tested positive for COVID-19.
NAILPRO caught up with Lawless to discuss the steps nail salons should take during the reopening process.
1. What tips and advice do you have for nail salons during the reopening process?
Salons should review CDC guidance on cleaning, sanitizing, and implementing administrative and engineering controls to reduce transmission of COVID-19.

Salons should consider installing plexiglass barriers between technicians and patrons as well as separating pedicure chairs to minimize droplet spread.

Salons should have hand sanitizer available throughout the space and require employees and guests to thoroughly wash their hands before appointments.

All patrons and technicians should wear masks and change them frequently if they become soiled or are left on hard surfaces where they may become contaminated.

Salon owners should ensure their salon is well-ventilated, checking the cleanliness of air conditioner filters and keeping windows and doors open to ensure air circulation.

Employers should consider checking employees' temperatures before interacting with guests.

Salon owners should be fully familiar with the requirements of state paid sick leave statutes and the federal Families First Coronavirus Response Act (FFCRA) to be sure that employees who are symptomatic or caring for others who are isolated or sick, or who need to be absent due to child care or school closures, are paid fairly.
2. What steps should be followed when a client or an employee tests positive for COVID-19?
With respect to clients testing positive, their appointments should be postponed without fee or consequence until at least 14 days after symptoms emerged, provided they have been symptom-free without medication to suppress symptoms for at least 24 hours or until they have tested negative. If they test positive shortly after having been in contact with salon staff, it is wise to inform the staff, who have been in close contact, that they should be particularly vigilant if symptoms emerge.
If an employee tests positive, they should be immediately sent home, if not home already, and isolated for a minimum of 14 days from the start of symptoms. If they are eligible for FFCRA leave, be sure to obtain the necessary documentation to qualify for tax credits for wages paid to them during job-protected leave. If the salon can identify clients with whom the employee was in close personal contact (within six feet, for five to 10 minutes or longer) within the 72 hours before the start of symptoms, the client should be notified that they may have been in contact with an infected individual, without revealing the employee's name, and encourage them to take appropriate precautions. The salon staff should thoroughly clean and sanitize the areas where the infected employee worked in the 72 hours before symptoms began and let other staff know that they may have been in contact with someone now confirmed to have COVID-19 and to be particularly vigilant regarding any symptoms they may have and to stay home if feeling unwell.
3. Are there any legal misconceptions surrounding the reopening process for nail salons?
Many salons assume that they are absolved of liability if they have employees or customers, or both, sign waivers of liability. Waivers are strongly discouraged with employees, as employers cannot require employees to prospectively waive their right to workers' compensation benefits if they become ill at work, nor can employers disclaim their obligation to provide a safe, healthy workplace for their employees.
Waivers are also limited with respect to patrons. Although they may be helpful to raise customers' awareness that no environment can be assured completely safe at this time, the use of waivers does not diminish businesses' obligation to clean, sanitize and ensure that sick or exposed employees stay home.
Bottom line: Just because businesses have been given the green light in many areas to reopen, doing so without a thoughtful, careful plan for ensuring the safety and health of all who enter the business is irresponsible and may expose the business to significant liability.
4. Is there any other information
NAILPRO
readers should know when operating their salon during COVID-19?
As tempting as it is to be fully booked to try to recoup revenue losses from closures, do not lose sight of the importance of continued social distancing. Booking fewer appointments and spacing them apart may be the difference between continuing to operate and having to shut down due to a resurgence of the virus or a serious incident in your salon. Human life and safety are the most important concerns, but good business sense also informs us to be tactful and methodical in our reopening process.