Every New York Fashion Week, the CND team sets up shop in an expansive hotel suite that becomes the nail art beehive known as the CND Design Lab. In this makeshift laboratory, new techniques are born; for example, this season, the artists created what they're calling a "spine." "It's a raised contour, where we build up the middle of the nail so it looks like you're looking down inside of the nail," says CND Design Lab team member Heather Davis. Think of the spine as a magnifying glass: The clear arc amplifies what's below it.
Such forward-thinking artistry is what the CND team strives for each and every time it keys a show. In fact, CND cofounder and style director Jan Arnold only works with designers that recognize the value of innovative nail artistry; the company typically passes on shows that request nude nails or a simple swipe of color.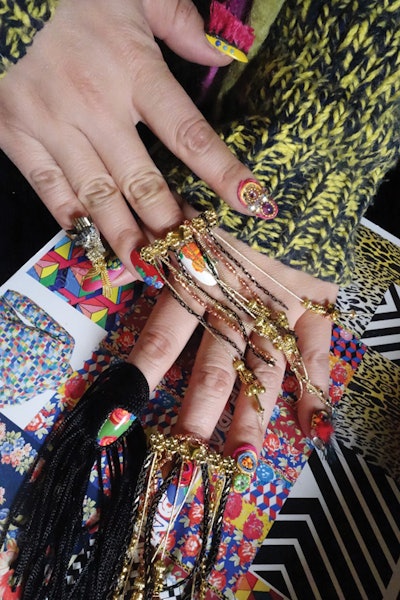 Instead, designs like the "Bob Marley" nail, which CND Design Lab team member Shelena Robinson created for Libertine, get a moment on the runway: With flowing black tendrils (embroidery thread) woven into the entire perimeter of the tip, the nail is a social media magnet. Even common nail art ideas, like snakeskin, are turned on their head in this lab: CND guest artist Lauren Wireman flash-cured a dimensional dollop of clear gel on each and every scale for a breathtaking 3-D effect.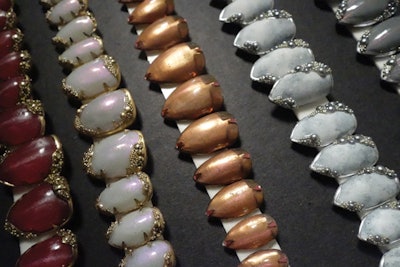 Hours upon hours go into the creation of the various designs, with some surprising discoveries cropping up along the way that are certain to become staples in nail salons, like the simple addition of flat metallic triangle studs around the perimeter of a nail—a design decision that the CND team is calling a "setting" that makes the nail look like a 3-D piece of jewelry. Says CND education manager Roxanne Valinoti, "We really want to inspire the nail pro." 
-Karie L. Frost 
[Images: Courtesy of CND]
READ MORE: