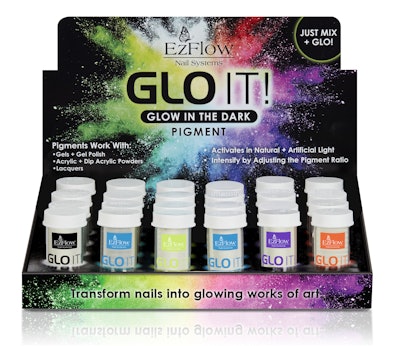 In an effort to make your nail art services stand out from the rest, customization is key. Clients love treating themselves to a service they can't get anywhere else. Enter EzFlow and it's newest product line, GLO It! Glow in the Dark pigments. When blended into the color of your choice, nails look one way by day and, after charging by artificial or natural light, illuminate by night. Simply mix the pure pigment powders into the nail medium to create a custom glow. Choose from six glowing shades, follow the recommended ratio, mix and glow!
EzFlow GLO It! Glow in the Dark Pigments work with:
Acrylic Powder
Dip Acrylic Powder
Gel
Gel Polish
Lacquer
Watch the video below for a brief intro to the product line:
What are your thoughts on custom blending glow in the dark pigments into your services? Let us know in the comments below!
[Image: Courtesy of EzFlow]