If you're looking to up your nail art game and create beautiful pieces of artwork on your clients' tips, the next series of Vanity Projects Workshops is for you. On May 6 (intermediate level) and May 13 (complex level), you'll be able to learn new techniques and nail art trends.
Partnering with Leafgel Premium, the classes range from intermediate to complex nail art, with instruction by internationally acclaimed nail artists, featuring Rie of @rivacouture.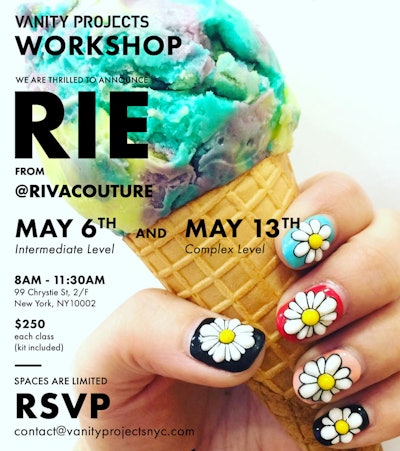 Price: $250 per class with kit included*
May 6: Intermediate Level
May 13: Complex Level
8:30-11:30 am
99 Chrystie St 2F, New York, NY 10002
*Students who enroll in both classes will receive 10% discount will be provided.
To sign up, email [email protected]
Will you be attending this class? Let us know in the comments below!