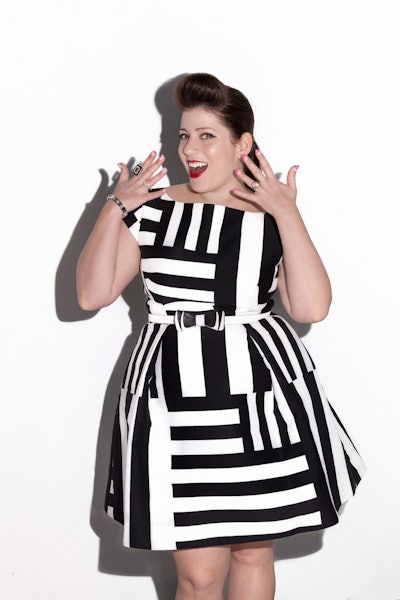 For the first time in CND's history, the San Diego-based company has named a Creative Ambassador: celebrity and editorial nail artist Miss Pop. "Fashion and artistry have always been in CND's DNA, and when we met Miss Pop, it was immediately clear that we share similar philosophies," says CND cofounder and style director Jan Arnold. "She is a master at translating the avant-garde into chic, wearable nail designs." Here, the New York City-based ambassador gives us a peek into this exciting new partnership, which officially kicked off at New York Fashion Week in February.
NAILPRO: How did this opportunity with CND come about?
MISS POP: I met the CND team at America's Beauty Show last year. I was one of the nail artists asked to speak to a group of beauty students with Jan Arnold. We have a shared commitment to education and artistic expression, and we love to have fun with fashion. So, once we were introduced, the relationship naturally grew from there.
NP: What are some of the things you'll be doing as Creative Ambassador?
MP: You can expect more fashion-forward nail art, tutorials and editorials. I'm looking forward to sharing techniques and trends, and I'm so grateful to have the CND rainbow of Vinylux and Shellac shades to paint with. Nails are my canvases and I want to make this wearable form of art continue to grow and evolve like other art forms—music, fashion, photography and film.
NP: What do you love about the CND brand?
MP: CND is committed to not only teaching techniques, but they also believe in imparting important knowledge about the health and wellness of our clients' nails. We need to be able to tailor our processes, explain our products and confidently answer our clients' questions. CND empowers each nail pro to be an expert.
NP: Any favorite CND products?
MP: I'm obsessed with SolarSpeed Spray Conditioning Polish Dryer, which I use every day on set to save time. Not only does it distribute the conditioning ingredients found in SolarOil, saving me a step, it also helps the nails dry in a flash. Plus, it smells like macaroon cookie heaven!
NP: What are you most excited about accomplishing in this role?
MP: There are so many talented women and men turning their passion for nail art into a career, and I'm hoping this position will give me the visibility to connect us as a creative force. I'm looking forward to continuing to meet and share with my fellow manicurists and nail art enthusiasts around the globe.      —Alexa Joy Sherman
What do you think about this Miss Pop interview? Let us know in the comments below.
[IMAGE: Courtesy of CND]
This article was first published in the April 2017 issue of NAILPRO.