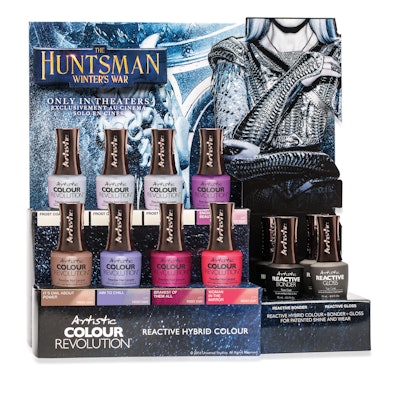 Every client has different needs – and for the client who doesn't want to do gel, but wants their lacquer to last longer, Artistic Nail Design has a brand new extended wear lacquer line: Artistic Colour Revolution Reactive Nail Lacquer!
The finish is super shiny, and unlike regular polish, Colour Revolution can last up to ten days. And don't worry, all the new hybrid lacquer shades will match existing colors in Artistic's Colour Gloss gel polish collection – so you can easily do matching manicures and pedicures!
Here's how it works: it's a three-step system, so you must start with one coat of the Reactive Bonder, apply two coats of your Colour Revolution color of choice, then add one final coat of your Reactive Gloss. The three are formulated to work together on a chemical level: a self-curing reactive oligomer helps bond the products together so color lasts longer on nails.
Images: Artistic Nail Design