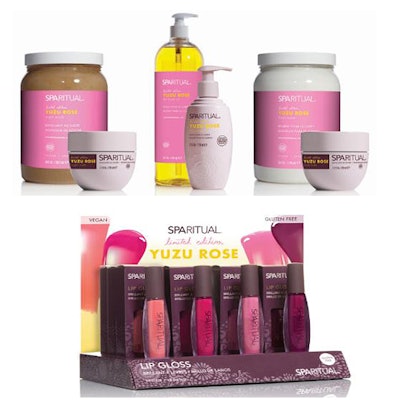 This February, SpaRitual launches their Limited Edition Yuzu Rose Collection which will include four lip gloss shades, a sugar scrub, a bath salt, a soak tonic, a moisturizing body butter, a body wash, and a dry oil.
The name "yuzu" comes from the Japanese citrus fruit by the same name – a fruit that's tangy and far from typical. This spring 2016 offering is also infused with aromatic notes of Mandarin, Tangerine, Lemon Satsuma, Ruby Red Grapefruit, Bergamot, Oak Moss, with added rose extract to soften the citrus/tangy fragrance of the Yuzu. These delicious natural scents are the perfect complement to SpaRitual's "Slow Beauty" ritual motto.
The Limited Edition Yuzu Rose collection will be available on February 1, 2016 at fine salons worldwide and at www.sparitual.com and products will range in price from $19-$49.
Images: SpaRitual