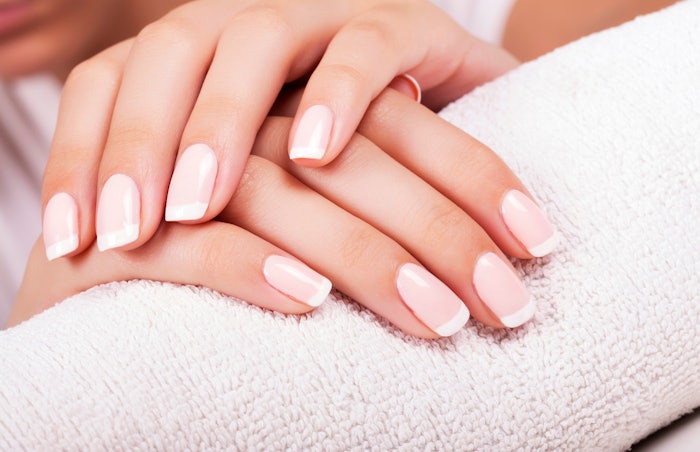 Minimalist nails are reentering the spotlight as a current 2023 nail trend. 
With Sofia Richie's recent wedding, rich girl nails, quiet luxury nails or clean girl nails have once again become a popular nail trend. "Quiet luxury" represents understatement, celebrates subtle elegance and is a minimalist aesthetic.
"Consumers are increasingly aware of the environmental and social impact of their purchasing choices. As a result, they are now more than ever prioritizing well-crafted, timeless products over disposable or mass-produced items," Liana Thomson from nails.co.uk shares. "While 'quiet luxury' has been a hot topic in the fashion and lifestyle sphere, it seems that its influence on the beauty industry, particularly in the realm of nails, has been somewhat overlooked. This trend focuses towards clean lines, simple silhouettes and neutral color palettes, which can so easily be adopted into your client's beauty routine." 
If your clients are looking for minimalist nail looks for this summer, here's nine trending options you can recommend for them. 
1. French Manicure 
A timeless classic, the French manicure features a natural or nude base with a clean white tip. It offers a chic and minimalist look that goes well with any outfit or occasion.
2. Nude Nails 
Opt for a simple, understated nude shade that matches your client's skin tone. Nude nails create an elegant and polished appearance while maintaining a minimalist vibe.
3. Clear Nails 
Embrace the natural beauty of well-manicured nails with a clear or sheer polish. This translucent look provides a subtle, effortless shine.
4. Milky Nails 
Achieve a milky nail look by using sheer, opaque shades that resemble the soft, creamy appearance of milk. This trend oozes sophistication and refinement.
5. Barely There French 
A subtle and delicate twist on the classic French manicure, featuring a finer white tip that creates an understated and minimalist design.
6. Neutral Ombré
Create a gradient effect using neutral shades, such as various tones of beige, taupe or soft pink. The transition from light to dark adds depth and dimension to your client's nails while maintaining a minimalistic and chic appearance.
7. Sheer French Tips 
Opt for a sheer or translucent white polish to create a softer and more subtle French tip. This variation provides a gentle and barely there effect, complementing the minimalist aesthetic.
8. Glazed Donut Nails 
Achieve a glossy and sweet appearance with this trendy nail style. Apply a high-shine, translucent top coat over your base color of choice, resulting in a luxurious and eye-catching glass-like finish.
Kerry Washington recently wore a glazed donut nail look to the Critics' Choice Awards. You can learn how to create that look with this tutorial from Diem Truong.
9. Pearlescent Nails
Incorporate the shimmering qualities of pearls into your manicure. Use pearlescent nail polishes or powders or add pearl embellishments to achieve a luminous and ethereal look. This trend adds elegance, femininity and sophistication to your client's nails.