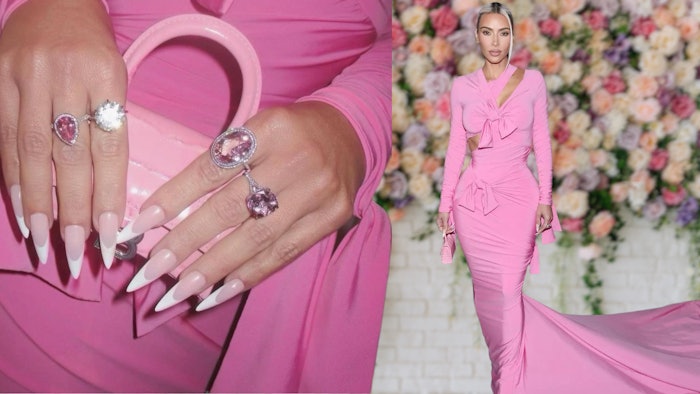 Fans fawned over Kim Kardashian's stiletto French manicure
In a June 2022 Q&A with Allure, Kardashian shared that she "can't do long nails" anymore, so it came as somewhat of a surprise to see her long stiletto French manicure at the Baby2Baby gala over the weekend. 
Kardashian's soft pink nails with classic pale tips complemented her bubblegum pink Balenciaga gown. 
As it turns out, the look was only temporary. In a text exchange with her sister, Khloe, Kardashian revealed the secret behind her idiosyncratic nail design—press-ons expertly designed and applied by Kim Truong and @nailsbydiem.
On Instagram, Truong revealed that she used DesignEx Pro™ Long Stiletto tips, Daisy Studio Gel and Marshmallow gel polish from The GelBottle for Kardashian's immaculate French mani. 
You can see the final result below. 
Follow us on Instagram and subscribe to our free daily newsletter to receive the latest news for nail professionals.