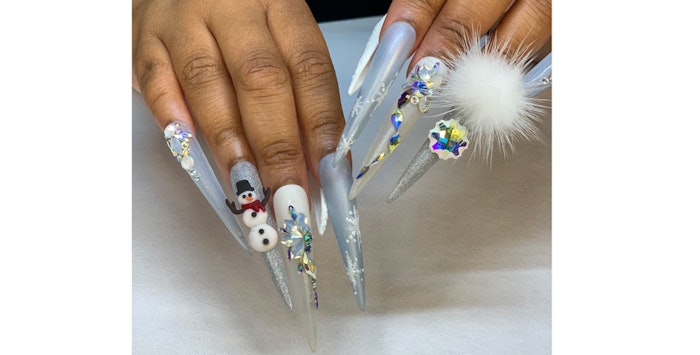 Nail artist Jenny Bui knows a thing or two about staying up to date with the latest nail trends. We tapped her keen eye and expertise to round up the trendiest colors, nail shapes and products for the coming months.  
Winter Color Predictions
"For winter colors, I believe we will see shades that are energizing, uplifting and appear brighter and less restrained than last year," Bui predicts. "Illuminating yellow to bright red [will complement] neutral hues like beige and gray." In addition, she thinks that crisp whites and cool blues will be popular during winter 2022.
Winter Nail Art Predictions
Bui (and nail techs everywhere!) are ready to bring the bling this winter. "Metallic and rhinestone nail art are most common in the winter season," she foresees. "Clients will more than likely ask for bling to make their holiday designs more festive. For example, silver or gold accents really make nail a design pop."
Winter Nail Shape Predictions
For the holiday season, Bui expects to get a lot of requests for almond shape nails; however, she does not think it will completely blow away the other options. "I do not see the tapered shape trend ending anytime soon. As for my all-time favorites, stilettos and coffin are always a must."
She adds, "To me, acrylics will stand the test of time, especially acrylic design, which is super hot this year. I can see it transforming into a big design trend next year."
Jenny's Must-Follow Artist
"My favorite artist is Tino Vo," she enthuses. "His creations are appropriate for upcoming trends and always outspoken. Anybody can reinvent the past or keep up with the present, but to tap into the future requires a mad mind like Tino."
Must-Have Winter Care Products
"I really recommend people use hand masks and foot masks," she says. "They are a must, especially if you work with your hands a lot. Self-care is very important. For my clients, I always use cuticle oil to hydrate. I also use lotion if their hands need it. Always remember to ask a client first in case they have any allergy or sensitive skin."
Related: 8 Winter Nail Care Tips Your Clients Will Thank You For