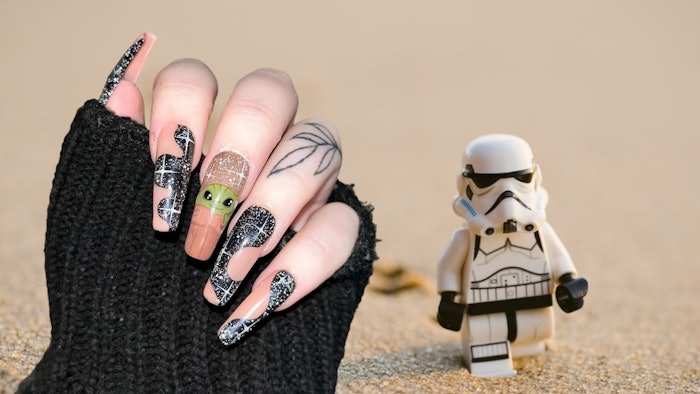 Courtesy of @nailss.by.gracie
Happy May the 4th! 
Today, Star Wars fans all over the globe celebrate Star Wars day. If you are looking for nail inspo for your Star Wars-loving clients, look no further. We share 8 nail designs inspired by the iconic franchise below. May the force be with you, and Happy Star Wars day! 
Inspired by "The Mandalorian," this nail set that features Grogu absolutely sparkles. You can see what products were used to create the look below. 
These groovy, galaxy Star Wars nails feature Grogu, a Mandalorian helmet and the iconic Star Wars logo. 
Darth Vader sparkles on this set, surrounded by nails with a sparkly silver base and star nail art. 
Travel to the deserts of Tatooine with this nail set featuring R2D2 and the Lars homestead, Luke Skywalker's childhood home. 
If you are looking for more Mandalorian nail inspo, "This is the Way." 
Inspired by the movie that started it all, these nails feature iconic imagery from "A New Hope," including C-3PO and the the Millennium Falcon.
Who doesn't want more Mandalorian nails featuring Din Djarin and Din Grogu?!
Taken in front of the iconic Millennium Falcon at Galaxy's Edge, this nail set features Grogu holding a Mickey balloon. If you look closely, you will even notice TIE fighter nail art on the other nails.