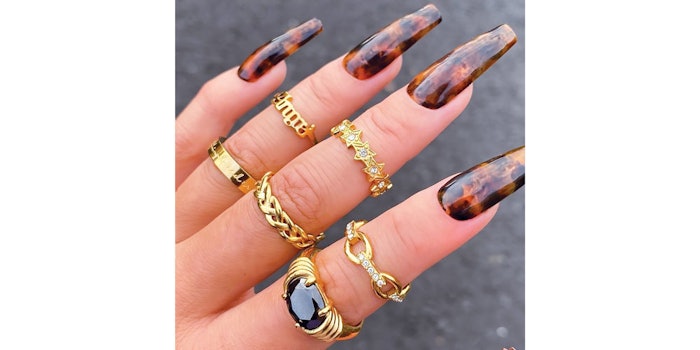 The onyx and amber hues found in the tortoise shell pattern have graced everything from eyewear to handbags to flower vases, proving that no matter the setting or occasion, this mosaic print is always in style. As the holidays (and the winter months soon after) quickly approach, nail artists on Instagram have shared sets centered around the enduring print to give your clients an updated take on the traditional tortoise shell.
To submit your nail art for Portfolio, look for the next theme by following @nailpromagazine on Instagram. Share your work using #NPPortfolio, or send an email to [email protected] that includes your name and Instagram handle along with your high-resolution photos. By emailing your photos, you grant Allured Business Media the right to use any of your submitted images in Nailpro magazine, corresponding electronic media and/or marketing materials without any compensation. In addition, you grant Allured Business Media the right to these images for future use without any compensation due.
Continue reading Nailpro's November/December 2021 digital magazine to see 16 tortoise shell nail looks your clients will love.