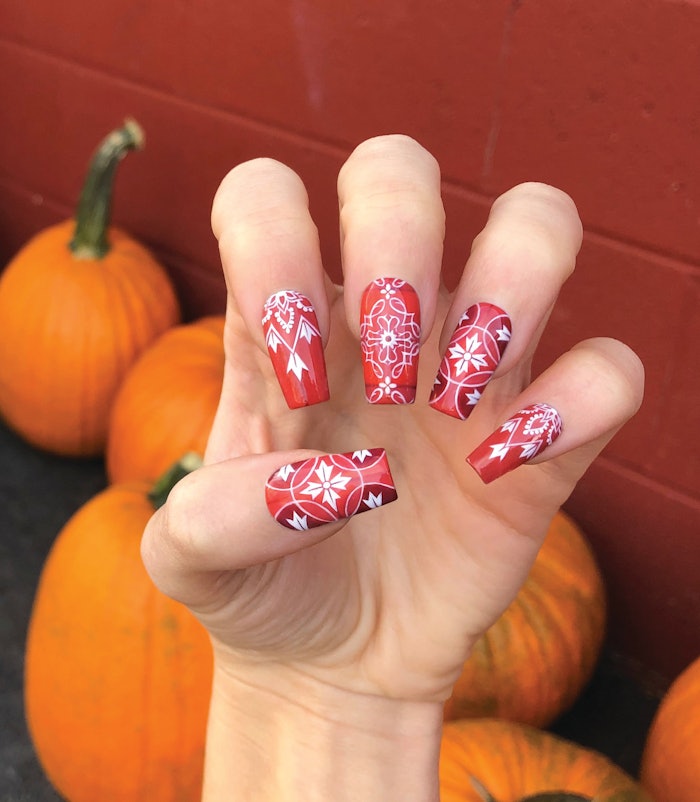 Earthy. Spicy. Opulent. Fall color palettes have been labeled a lot of ways, but this year, "elemental" seems to be the characteristic of the nail trends and colors that will define the serotinal months and beyond. From essential autumn colors like auburn and bullion to the fundamentals of the natural world, including celestial skies and quaint woodlands, getting back to basics this season is anything but redundant. To help navigate the variety of fall fads, NAILPRO educator Celine Cumming shares her predictions for the biggest fall 2021 nail trends.
NAILPRO (NP): What fall nail colors do you expect to be popular this year?
Celine Cumming (CC): This fall, I'm predicting that nature-inspired collections and colors will be big. Earthy browns and nudes, deep forest greens and dark blues, rich reds and eggplant purples, and pumpkin-y orange hues.
NP: Which nail shape can nail techs expect to work with the most this fall?
CC: Coffin nails will be especially trendy this fall, particularly as we get closer to Halloween. This shape will pair well with all the spooky Halloween nail art.
NP: What nail art trends are you most intrigued by for fall 2021?
CC: This past summer, we saw swirl designs really take off in the nail art world and become hugely trendy and popular. Expect this trend to continue into the fall, but rather than being executed in the rainbow of bright colors that were popular in the summer, I foresee the swirl designs being popular with nude base colors paired with brown, orange and white swirls.
NP: What kind of treatments do you think clients will request during the fall?
CC: Incorporating fall flavors and scents into your manicures and pedicures is always a good idea to excite your clients when the summer humidity turns to crisp fall air. Whether it is scented lotions or hand/foot masks or scrubs, pumpkin spice, apple and cranberry treatments would be good fall choices to incorporate and offer to clients. Offering a warm apple cider beverage and a pumpkin spice cookie or a small charcuterie plate to clients could also be a hit.
Continue reading for Instagram's trendy tips that nail techs are creating for their autumn-obsessed clients in the September/October 2021 issue of our digital magazine.