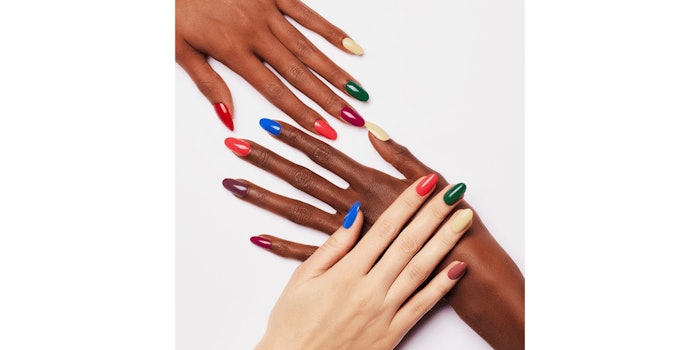 Courtesy of Ladybird House
By Chiara Tentori
Nail art is flourishing again in Italy, popular among young generations, influencers and celebrities. But nail art, nail design and nail care are not new in Italy. Once considered niche services in the beauty salons, manicures and pedicures have gained more popularity and relevance over the time.
One of the very first companies operating in the Italian nail business is Ladybird House, based in Modena, in the Northern region of Emilia-Romagna, which imports and distributes major nail brands such as CND, ORLY, ibd, EzFlow and SpaRitual.
"You could say, I have literally grown up together with the nail business in my country, and it has with me. Before our company was founded, in 1992, nail services barely existed in Italy," recalls Libera Ciccomascolo, president of Ladybird House.
I had the pleasure to meet Libera and discuss nails, inspirations and the current status of the market.
Chiara Tentori (CT): How did you approach this industry a few decades ago?
Libera Ciccomascolo (LC): Back then, I used to work for another beauty company in Modena, my hometown, which also operated in the nail sector. I gained some experience, I did some market research about opportunities and risks. Finally, together with my sister and partner, Cinzia Ciccomascolo, we made the decision to start Ladybird House.You could call us "nail pioneers," if you wanted to.
CT: Which are the most requested services by customers in the nail salons at the moment?
LC: Nowadays, customers want and appreciate simplicity and performance, with a touch of glamour, at a reasonable price. Therefore, new generation products such as brush-on gels are so popular. Such brush-on soak-off gels allow technicians to enhance, correct and elongate natural nails, providing color, resistance and high shine. They are applied as traditional soak-offs but perform as hard gels. No sculpting and filing is necessary, with a significant reduction of work time.
CT: Regarding shapes and decoration, which is your personal taste? Can you define your style with three adjectives?
LC: I prefer a simple, elegant and colorful style. Red is definitely my favorite color.
CT: Where do you mostly find inspiration?
LC: I take inspiration from my customers; they are a unique and endless source of inspiration. My highest ambition is to fulfill the nail professionals' needs and accompany them in their growth.
CT: The new aesthetic standards in the fashion and beauty industry celebrate a new kind of beauty, which is inclusive and liquid with no borders. Do you believe in a genderless creativity that has nothing to do with age, gender and traditional standards?
LC: I have always believed and actively supported freedom and creativity in all its forms, within and outside the nail world.
About the Author
Chiara Tentori is a freelance writer and former editor-in-chief of Nailpro Italy based in Lecco, Lake Como.