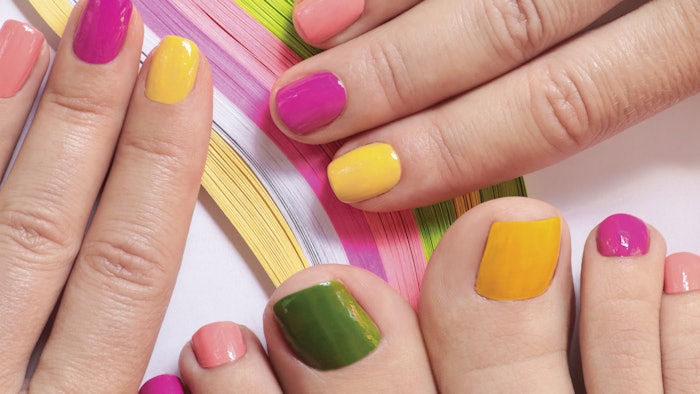 By Jan Arnold
It's probably one of the most stressful decisions we need to make: deciding how to approach the mani-pedi in terms of color and design. I sit in my local salon, Glamour Nails, where 40 active nail pros are doing mani-pedis every hour on the hour. I watch carefully when it's time to make the fateful choice of color and design. Should I match the two? Should I go high contrast? Should I do nail art on one or on both? Once the reality of this urgent decision presents itself, nine out of 10 times, the client says, with both relief and resignation, "Let's just do what we did last time."
It's interesting that this choice is so difficult, because nail color choice is, after all, a temporary decision unlike hair color or permanent makeup. Just wait a few weeks, and it's time to change again. So why not throw caution to the wind, and try all the combos and colors options out there? There are hundreds of colors and thousands of combinations after all.
For all our clients, color choice harmonizes personality with style, life and career. Color and design are self-expression and security. What makes us feel good in that moment and what flatters our skin the best as seasons change requires professional guidance. The nail professional who addresses this challenge will need an arsenal of ideas to take the ordinary mani-pedi into an adventure of possibilities.
I've turned to two amazing experts, Tamara DiLullo and Tan Nguyen to get their insights on the situation.
Should the mani-pedi match?
Tamara DiLullo (TD): I don't believe mani-pedis should match; although, classic colors always look great matching and are still very popular. Most of our clients love to express themselves with playful nail art and opt for two colors when they visit the salon. If they opt for nail art, it is most common on the hands, and we pull our favorite shade onto the toes in a solid.
Tan Nguyen (TN): The mani-pedi should not have to match. Now that clients are more confident and bold with their choices, they are much more willing to mismatch colors to suit their style and personality. Some express with bold color on toes, and others are the opposite. They want those Zoom calls to be all about bold fingernails. Vive la différence!
Should mani vs. pedi be high contrast? If so, how?
TD: There are two types of nail color combos that work best: tonal and complimentary.
Tonal is a great approach, where two different shades are used, such as pink. When we go tonal, the flashier color usually is on the toes because people are more prone to flash on their toes and get something more subtle on their hands.
Complimentary is another great approach, where opposite colors on the color wheel complete the look. Many of our clients will choose the wilder of the two for toes. This is already more fun than a matching or tonal pairing and is usually very popular choice for vacationers!
TN: I've always reminded my clients that we express with our hands. But don't forget, toes become "wow" in a fabulous pair of open-toed stilettos.
Should you do nail art on one or on both? If so, how?
TD: Ninety percent of our clients will opt for nail art on their hands because they want it to be seen, especially if they are investing in it.
Clients who are not allowed to sport nail art for reasons like their profession will then go for it on the toes, and it falls more into the "personal" nail art lover. When nail art is "personal" or intimate, people usually tend to have fun on their toes because they are easily hidden (e.g., my cool boys!)
I personally love nail art on all fingers, and then I repeat the most pronounced element on the big toe only. I then pull my favorite color from my design for the rest of the toes.
TN: In my salon, nail art is a must for every client. I always tell clients that art is an expression of you, so let the world know who you are.
Once the reality of this urgent decision presents itself, what do clients do?
TD: They take our advice. Clients will usually go with a tonal pairing or pair their toenail shade to match the primary nail art color from their hands.
We have also noticed thatclients are much more decisivesince the pandemic, as their visits became less frequent and therefore more important to them.
TN: I always make nail art a complimentary gift if it's their first time with me. It gives the conservative or shy clients an opportunity to play outside of their comfort zone.
Any observations tied to client lifestyle or profession?
TD: Most nail art enthusiasts are fun creatives by nature, so they are comfortable rocking nail art on their hands; however, there are some die-hard nail art fans that just can't wear it on their hands, including nurses, lawyers and people with recurring roles on TV.
A mani masterpiece will put nail art on all nails. Those flirting with art will choose one or two accent nails for art to keep it tame.
TN: In my salon, I've noticed my younger clients go wild on toes. My veteran clients love the idea of their fingers being the conversation starter.
A Mystery Solved
So, there you have it. Mystery solved with great advice and real-world ideas to turn the mani-pedi dilemma into a world of opportunity.
About the author:
Jan Arnold is the co-founder and style director of CND. She is also a member of Nailpro's 2021 advisory board.