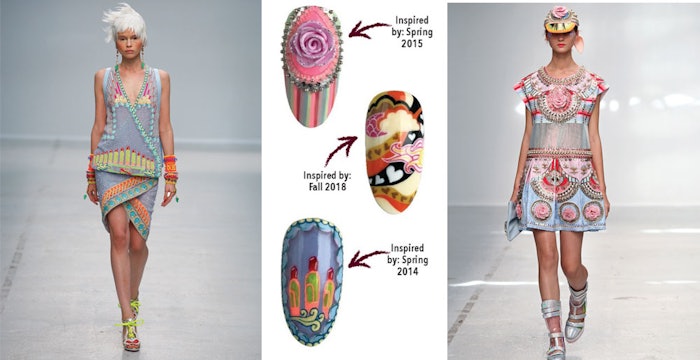 More is more when it came to the creations of designer Manish Arora. Every piece he crafted bore maximalist beading and embroidery, high-voltage color, dizzying patterns, and sharp tailoring that, frankly, was the only aspect he reigned in. Eye trickery scored high with the prolific designer: A shift dress sprouted three-dimensional roses that appeared touched by glistening dew and a drop-waist number's embroidered geometric pattern revealed, upon closer inspection, rows of lipsticks and vintage cigarette holders. For Arora, source material for a collection could be anything—the wilder the inspiration, the better. Influences ranged from the darkness of HBO series Game of Thrones for his Fall 2015 collection to Josephine Baker at a rave for Spring 2014 (hence, those vintage cigarette holders) to the truly Wild Wild West for Fall 2016. No matter the inspiration, Arora's madcap designs serve as a magical springboard for whimsical nail art creations. Guest artist Celine Cummings, a master of fine details, revisited Arora's archives, translating the designer's love of embroidery, beading and boisterous patterns into intricate nails that elicit wonder—just like their muses.
About Celine Cummings:
Norwood, Pennsylvania-based editorial and freelance nail artist Celine Cumming (@nailedbyceline) specializes in detailed nail art, and juggles her love of science and art equally, splitting her time between working as a geologist and creating nail art.