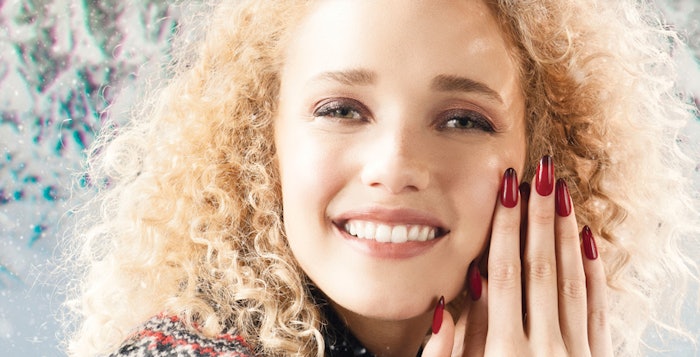 Sweater Weather
It's that time of year when clients who aren't already donning red tips on the regular are now clamoring for every shade of crimson out there. From candy apple to burgundy and shimmering shades to glitter, red is simply the color of the season—and what would our November/December cover be without it? To bring the hue to life, Gelish dean of education Vu Nguyen joined us to create this cool French twist. He began by extending the model's nails with a quick and easy application of Gelish Polygel, shaping the tips into an elegant almond shape. Next, he applied two coats of bright red cream Stilettos in the Snow from the new Shake Up the Magic holiday/winter collection. Then, using Center of Attention—a moody maroon shimmer—he created a soft ombré at the very tip, feathering it out as he worked up the nail. With a final touch of top coat, this salon-friendly design is complete. Recreate this on-trend look with any combination of seasonal colors to get your clients ready for all of their holiday engagements.
+Kit Essentials
• Gelish PolyGel
• Gelish PolyGel Slip Solution
• Gelish PolyTool
• Gelish Stilettos in the Snow
• Gelish Center of Attention
classic combos
Perhaps more than ever, we could all use some of the magic and nostalgia that comes with the holiday season—and that's exactly what the Gelish and Morgan Taylor Shake Up the Magic collection brings to life. With a combination of classic and contemporary shades, plus a couple of glittery toppers, these hues will definitely give you all the festive feels.