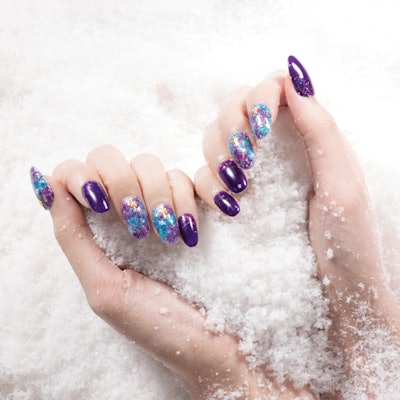 When clients beg for a little holiday flair, no need to panic: we've got you covered with myriad designs from simple to simply astounding!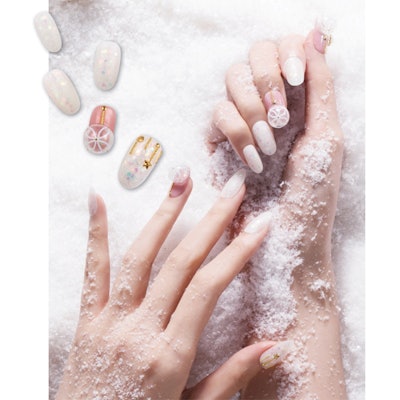 PHOTOS: NAILPRO Readers Share Festive Holiday Nails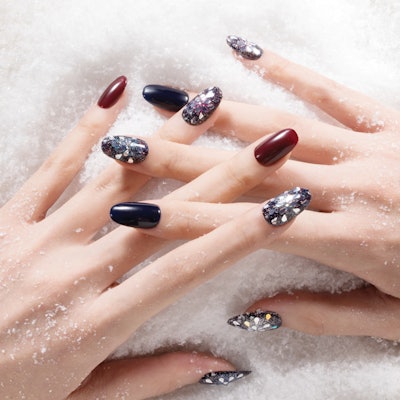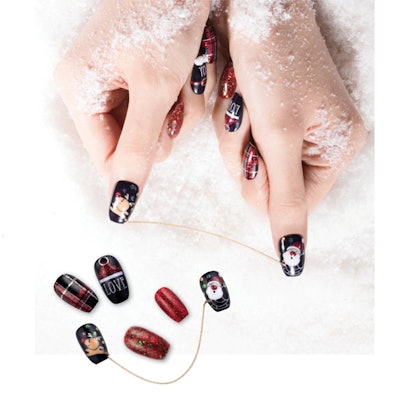 RELATED: Attend SoCal's Largest Event for Nail Industry Professionals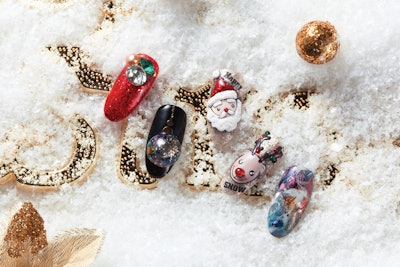 Santa Step-by-Step
Add some jolly-ol' spirit to seasonal sets with this 3-D St. Nick courtesy of Korean nail magazine Nailholic.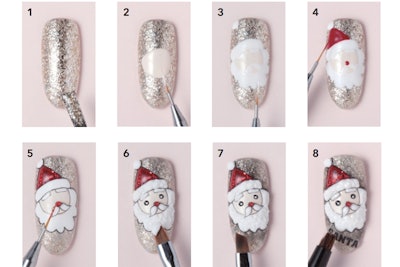 1. Apply base gel. Then, apply two coats of silver glitter gel.
2. Paint a circle at the center of the nail with nude gel polish.
3. Paint the brim and pompom of Santa's hat, as well as his beard and eyebrows, with white gel paint.
4. Fill in the hat and dot the nose with red gel paint.
5.Use a liner brush to outline the design with black gel paint.
6. Add red glitter gel to the hat and adhere a small red crystal to the nose.
7. Create a 3-D effect on Santa's hat, beard and eyebrows with white art gel.
8. Use an angled gel brush to add a shadow around the perimeter of the head with a mixture of black gel paint and base gel.
9. Adhere a Santa sticker to the base of the nail or hand-paint the letters with black gel paint. Finish with gel top coat on Santa and matte gel top coat on the rest of the nail.
*Cure after every gel application unless otherwise noted.
[Images: Courtesy of Nailholic Korea]
This story first appeared in the December issue of Nailpro magazine. To receive the magazine, click here to subscribe.