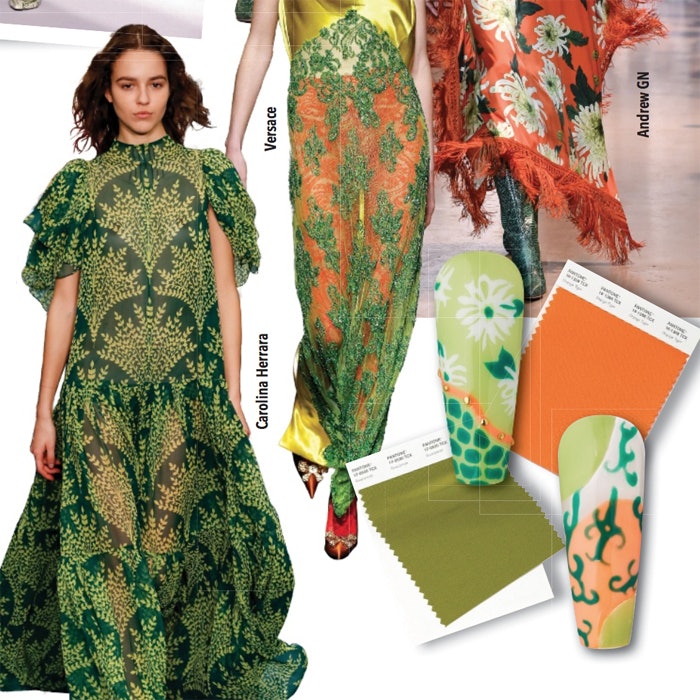 The Fall 2019 Fashion Collections and Pantone Institute's color report inspire trend-setting tips in the season's hottest dip, gel and lacquer shades.
Just before showing Versace's fall/winter 2019 collection, inspired by 1990s-era Seattle grunge, Donatella Versace said, "A little bit of imperfection is the new perfection." The sentiment seemed to resonate with other designers this season as well: Isabel Marant paired earth tones with quilted patchwork; Michael Kors layered fringed denim over fishnet stockings; and Dolce & Gabbana incorporated sequins, velvet and damask all in a single ensemble. And right on cue, Pantone Institute released the autumn 2019 Fashion Color Trend Report, giving fashion and beauty devotees alike a taste of what colors they'll be coveting come fall.
Of course, it also provides endless fodder for nail art inspo, so we tasked nail artists Annie Boltz, Taylor Gonzalez and Eve Cruz with creating nail tips in three trending color combinations that embody the perfectly imperfect spirit of the fall 2019 collections. Boltz, for one, illustrated the theme by sourcing nail art embellishments from some unexpected sources. "Don't cap your creativity based on the products in front of you," she says. "Walk craft and fabric store aisles, keep an open mind and get inspired!" Case in point: Boltz's blue water tip made by shingling layers of crumpled paper towel dyed with craft store alcohol ink. Ready to play? Take a cue from these catwalk-inspired nail tips and the season's best fall dip, gel and lacquer shades.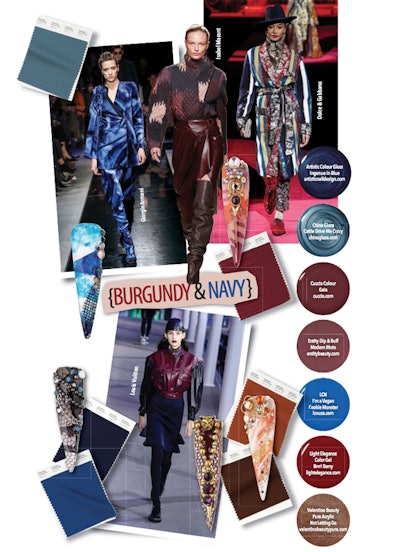 Strike it Rich
Sophisticated burgundy and navy—sometimes punctuated by a pop of orange—made an appearance on runways ranging from Michael Kors to Isabel Marant. Valentino Beauty Pure artist Annie Boltz picked up on the signature shade trend when she created these fetching tips, which incorporated encapsulated and adhered everyday items. "I love pairing opposing materials and themes," she says. On a two- tone blue nail, Boltz mixed metal chains, hematite, lace and beads. Meanwhile, a maroon and black Louis Vuitton ensemble prompted her to encapsulate mesh over a clear nail and add a V-cut acrylic overlay, chocolate pinstripes, gold studs, and deep plum and garnet-toned crystals. "The V taper in the skirt, harsh lines and brass buttons provided the framework for this wicked sharp, studded and bold look," says Boltz. While her deep burgundy and orange tip nods to Isabel Marant's fall 2019 collection, Giorgio Armani's silk pantsuit featuring geometric folds inspired a layered wet look, incorporating dimension and texture. "Nail art doesn't always have to be on top," reminds Boltz. "Pantone's Rocky Road and Sugar Almond swatches inspired me to encapsulate gold beads and studs to add richness and depth—I absolutely love a semitranslucent marble!"
Fall Foliage
The vibrant green and electric orange frocks seen at fall shows like Carolina Herrera, Versace and Andrew GN inspired Los Angeles- based nail technician Taylor Gonzalez to pair the unexpected yet captivating color combo with bold patterns and gold hardware to stunning effect. "Use gem gel instead of glue when adhering embellishments," suggests Gomez. "It allows time to play around with the arrangement of each piece until you achieve the look you're going for."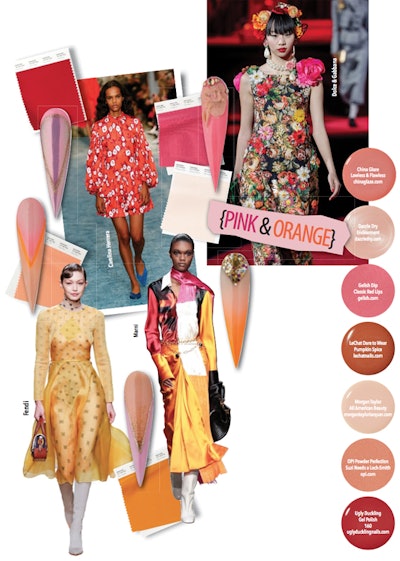 Punch Drunk
Juicy shades of pink and orange found their way into many of the fall 2019 collections, including Dolce & Gabbana and Marni. With Pantone color names like Peach Pink, Fruit Dove and Crème de Pêche, nail artist Eve Cruz couldn't help but orchestrate a set reminiscent of the hues seen in seasonal fruits and florals. Made entirely with colored acrylic, cut acrylic and gold gel accents, this set is best recreated using a craft X-Acto Knife to achieve the sharp edges, suggests Cruz. "Protect your ombré and acrylic cut nail art with a layer of clear acrylic to avoid filing any designs," she says. To show a bit of her individual style, Cruz incorporated her very own custom-mixed encapsulated glitter, coined New Delhi. After all, what Dolce & Gabbana look would be complete without encapsulated glitter and a bit of bling?
–by Angelina Lewis
[Images: Courtesy of Armando Sanchez; Getty Images]
This story first appeared in the September issue of Nailpro magazine. To receive the magazine, click here to subscribe.