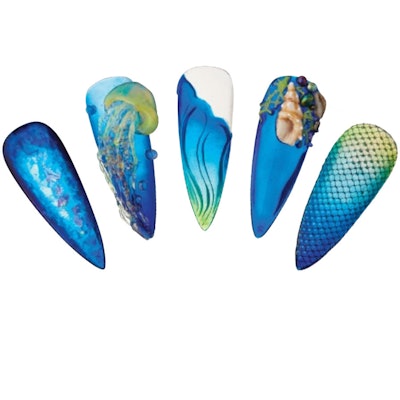 Shiny scales, glowing jellies and the translucent colors of marine life inspire a set of tips by Orlando, Florida-based nail artist Helena Han. "While scuba diving, I saw sea glass and translucent colors and wanted to incorporate them into my marine life set," she says.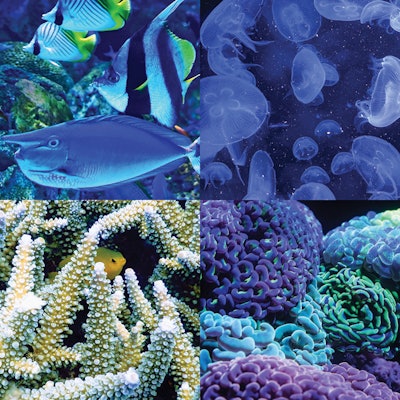 RELATED: Create a Marble-ous Nail Design with Christrio Nail Ink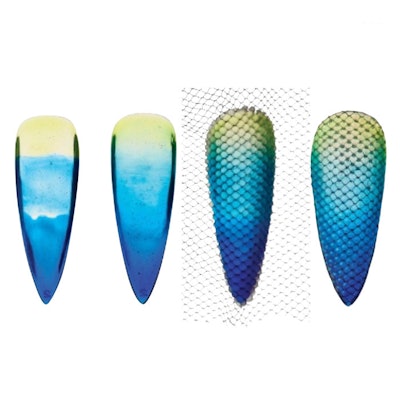 Step 1. Apply yellow glass gel to the base of the nail, light blue to the center and dark blue to the free edge. Do not cure.
Step 2. Blend the colors from top to bottom for an ombré effect. If necessary, apply a second coat of each gel for vibrancy, and blend.
Step 3. Overlay the nail with tube gel or clear acrylic. Before it cures completely, gently press a small piece of netting into the product.
RELATED: Moroccan Architecture Inspire Swoon-worthy Tips
Step 4. Trim the excess netting from around the nail. Apply no-wipe gel top coat, then apply aurora pigment powder with a silicon brush. Finish with gel top coat.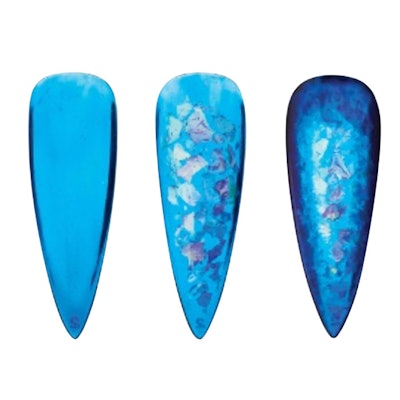 Step 1. Apply one coat of vibrant blue glass gel.
Step 2. Apply a thin layer of gel top coat. Do not cure. Add iridescent flakes to the nail, avoiding the perimeter and leaving space between each piece. Apply no-wipe gel top coat.
Step 3. Paint dark blue glass gel around the edge of the nail and blend it into the center. Then, outline the nail with black gel polish. Finish with gel top coat.
* Cure after every gel application unless otherwise noted.
–by Angelina Lewis
This story first appeared in the June issue of Nailpro magazine. To receive the magazine, click here to subscribe.
[Images: Courtesy of Armando Sanchez; Unsplash]