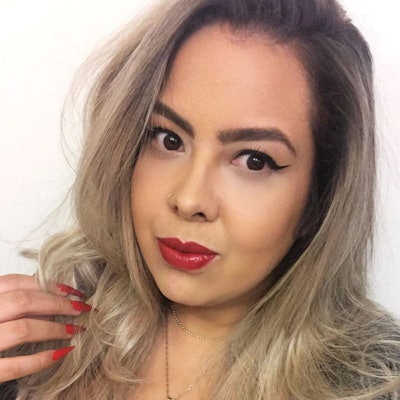 Sherman Oaks, California-based nail tech Yvett Garcia started doing nails as a hobby while studying international business in Guadalajara, Mexico. Flash forward 12 years, and the talented pro's acrylic sets embellished with crystals are in high demand with her celebrity and influencer clientele—not to mention her nearly 300,000 Instagram followers. Garcia's work has also appeared on magazine covers, in cosmetics campaigns and on the Victoria's Secret runway. Find out what keeps this artist inspired.
1. The 1920s "I've always had a deep love for the 1920s—the beautiful symmetry and streamlined geometric shapes in architecture, fashion and art, and the glitz and glamour! I just think of The Great Gatsby."
RELATED: Daily Inspo – OPI Brand Ambassador, Tom Bachik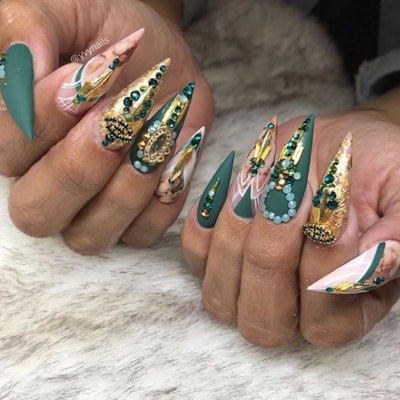 2. Deep Green and Gold "Right now I'm obsessed with dark green—even more so when it's combined with gold. These colors exude an elegant and luxurious feel for nail art that just makes you feel so empowered, like a boss!"
3. Sneakers "As a sneaker lover, I'm constantly inspired by all the new releases—the styles, the colors, the prints. The art of matching your nails to your kicks is growing, and I'm here for it."
RELATED: Daily Inspo – CND Cofounder, Jan Arnold
4. Swarovski "Bling has always been a part of my nail art, specifically Swarovski. Recently, they've really stepped up for us nail techs and brought us perfect shapes, cuts and sizes that inspire you to bling on."
5. Bella Doña "They're currently one of my favorite urban brands. They constantly inspire me by bringing back the Old English lettering and styles of the '90s, and they take me back to my roots as a Mexican-American."
–by Lotus Abrams
This story first appeared in the April issue of Nailpro magazine. To receive the magazine, click here to subscribe.
[Images: Courtesy of Yvett Garcia; Instagram]