If memories of visits to Grandma's house are flooded with visions of floral-print davenport, you're not alone: Designers turned to Nana's couch as a source for prints that feel antiquated yet chic.
At Temperley London blushing roses—some gilded in shimmering gold—mimicked the retro buds found on a glamorous settee. Erdem Moralioglu, a designer long known for his use of English countryside flower prints, dipped into his heritage—specifically, the imagined meeting of his two great-grandmothers— resulting in exquisite velveteen dresses that would look at home on a gran's wingback chair. Waves of bugle beads lapping along the edge of a floral tapestry coat at Mary Katrantzou echoed the nuances of a Southern matriarch's parlor-room tufted couch—sat upon only on rare occasions.
Whether or not Grandma's divan stirs up wistful memories for you, the blossoming prints will certainly inspire your nail art. Witness guest nail artist Celine Cumming's hand-painted beauties: Sketched to perfection, they rely upon large-scale flowers, meticulous black outlines and copious shading. Plant a few large blossoms on a couple of nails or paint a tapestry on every one—the more, the granny-er!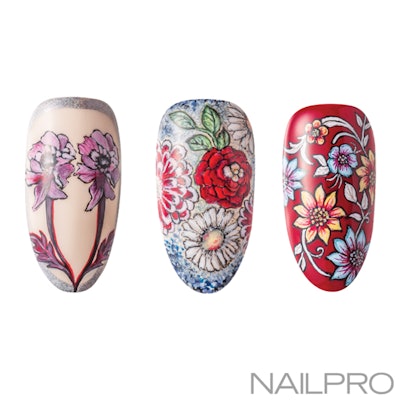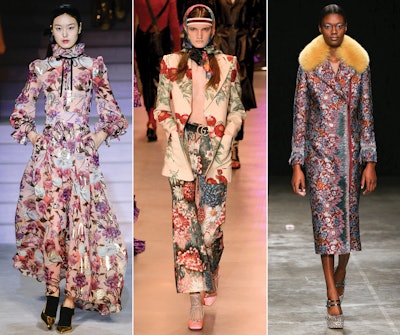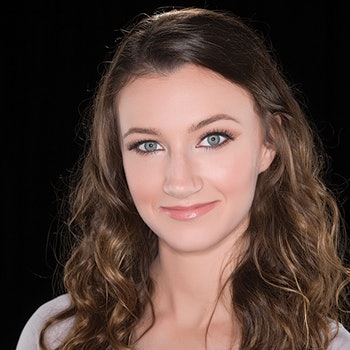 Guest Artist: 
Celine Cumming is a nail artist based in Middletown, DE, and has had a passion for nail art since childhood.
–by Karie L. Frost
This article was originally published in the January 2018 issue of NAILPRO.
[Images: fashion from Getty Images, nail art from Brooks Ayola]