Valentine's Day is the first holiday of the New Year that inspires clients to get creative with their nails. Take advantage of this up sell opportunity by adding wearable 3-D nail art to your menu.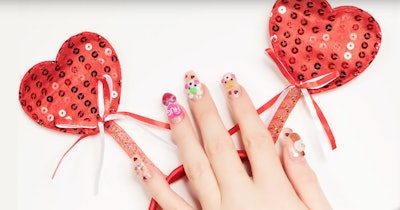 Browse the videos below from manufacturer Kupa Inc. to learn how to make festive and adorable textured designs.
RELATED: GALLERY: Valentine's Day Nails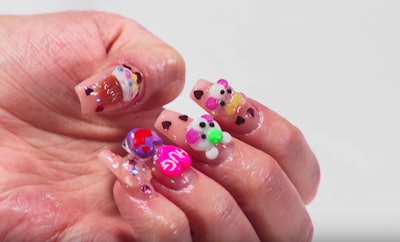 In the two-part tutorial, featured nailpro Mie Kitabayashi, from Montebello, Calif., demonstrates how to use ArtFinity 3-D Nail System of liquid and powders to execute adorable and trendy art work that's perfect for the loved filled festivities including hearts, cupcakes, teddy bears and even glitter nails.
3-D Valentine's Day Nail Art Tutorial Part 1:
3-D Valentine's Day Nail Art Tutorial Part 2: 
How will you take advantage of the Valentine's Day nail art requests? Let us know in the comments below! 
-Sigourney Nuñez
[Images: Kupa Inc.]
READ MORE: 
TUTORIAL: Two-Tone Stamping By Young Nails Caption Polish