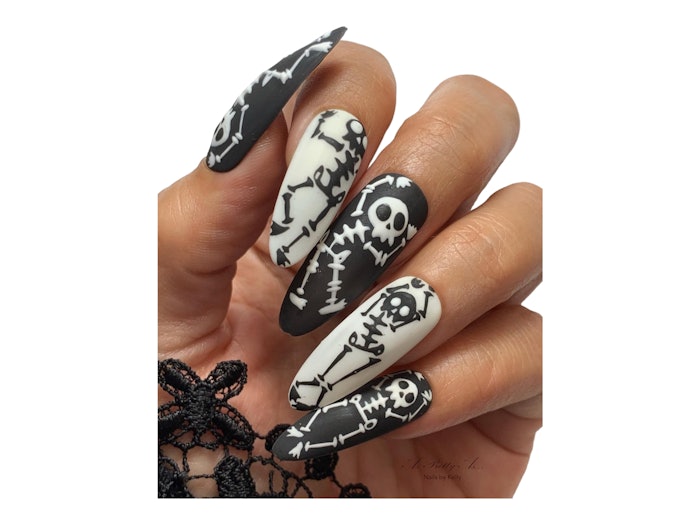 Spooky season is in full swing, and to celebrate, we asked U.K.-based nail artist Kelly Scothorn to breakdown her skeleton nail art design.
GET THE LOOK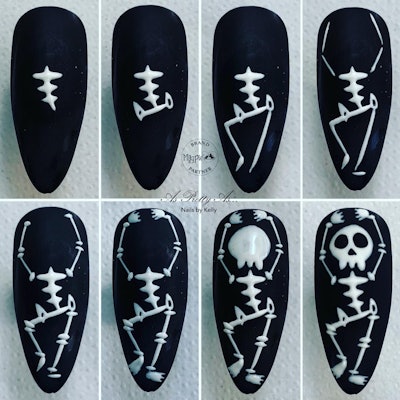 1. Apply two coats of gel color to the nail, then cure. Apply a matte top coat, or wipe away the inhibition layer for a matte surface. Using white gel paint, apply the main ribs of the skeleton in the center of the nail. Flash cure.
2. Using the tip of your brush, add a slightly angled line at the base of the ribs, and a small circle either side. Cure.
3. Extend the left side of the hip to create a bent knee, and add a tiny line to begin the foot. Bring down a long, thin line at an angle for the other leg, and again, add a small line to begin the foot. Flash cure.
4. Draw a segmented line for each of the raised arms. Once you're happy with the angles of your lines, cure. 
5. Using the very tip of your brush, add small lines for the skeleton's joints (e.g., elbows, knees, wrists).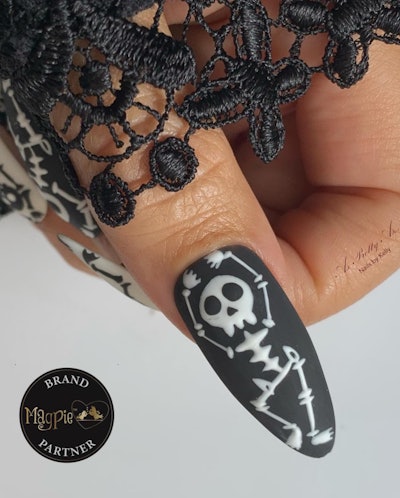 6. Add a dot of gel paint to the hands and feet before curing, then use a detailer brush to gently pull out points for the toes and fingers. Cure.
7. For the skull, paint a large circle in the space between the arms. Carefully draw three teeth by dragging the gel paint downward. Round the teeth, and reshape as needed. Fully cure. 
About the Artist: Nail tech and artist Kelly Scothorn is based in Derbyshire, England. She  used Magpie Beauty Gel Polish in Black Betty, black and white gel paint and Magpie Beauty Velvet Top no-wipe matte top coat for her tutorial. 
Check out more of Scothorn's work on Instagram.