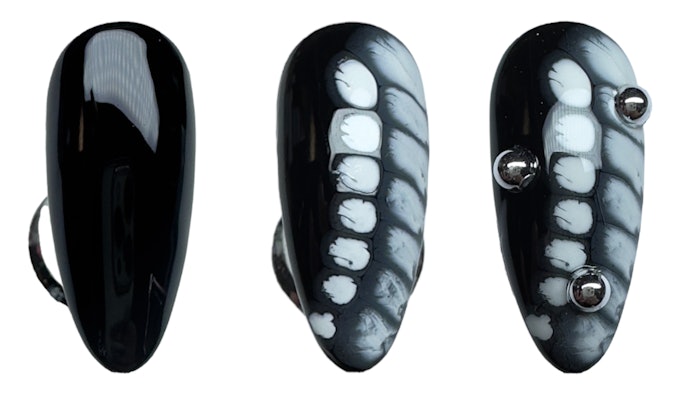 Courtesy of @abigailsviewofbeauty
Nail trends come and go, but some find a way to make a reappearance. Blooming gel is the latest on the list of nail trends making their resurgence.
Similar to that of a base coat, blooming gel is clear gel polish that, when painted over the nail, creates a blooming effect to any gel art nail design. Learn how to use this product to create fun and stylish nail looks this spring. Below, Abigail Tovar (@abigailsviewofbeauty) shares her tips and tricks and gives advice on how to use blooming gel. 
How-To: 
If you haven't used blooming gel yet, you're missing out!
Blooming gel is an amazing product to incorporate in your nail art. Blooming gel is exactly what it sounds like. It helps gel bloom smoothly.
You can use it to create snake print, flowers, abstract, marble, tortoiseshell and more! My personal favorite is abstract art. I love dropping blobs of color down and allowing the gel to do its thing.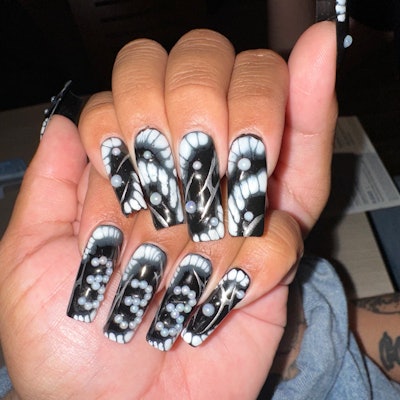 When using blooming gel, you want to apply two coats of your desired base color. Make sure your base is completely cured before applying the blooming gel. When it is time to apply the layer of your blooming gel, make sure you do not cure it.
While your blooming gel layer is still wet, you want to drop a different color on top of the wet layer in whatever area of the nail you want it to be most concentrated in. Typically, you want to pick a color that pops out against your base. I enjoy using white or a neon color gel over black.
Make sure you know where you want to put it on the nail because you have to apply it pretty quickly to avoid the design spreading out too much – unless that is the look you are wanting!
The more gel you have on your nail brush when you apply it to the nail, the more surface it will cover and spread on.
Once you are happy with how the gel has bloomed, you can place it in your lamp and cure it. You can continue with the same process if you're wanting to add layers to the blooming effect.
When you are done using the blooming gel, apply a thin layer of clear gel to smooth everything out before adding any other nail art or a top coat. To complete my abstract look, I always add some type of gem on top.
Yes, it is that easy to use! Add blooming gel to your art kit to elevate your nail art.