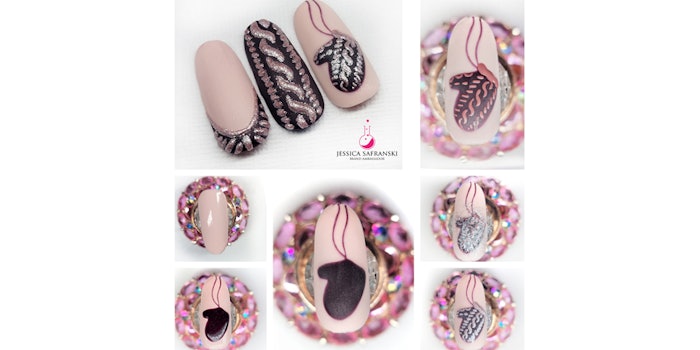 Courtesy of @exclusivelynailsbyjessica
Jessica Safranski created a winter sweater set with an adorable mitten design.
Safranski, a Light Elegance brand ambassador, used Light Elegance products to create the nail art.
Check out the how-to steps:
Apply Bunny Slopes ButterCream as your base color, and cure.
Using Pucks & Penalties ButterCream, paint a mitten and strings, then cure.
Apply Flat Matte Top Coat to the entire nail, then cure, and cleanse.
Using Toboggan Time ButterCream, paint knitted stitches on the mitten, and DO NOT CURE.
Using a Lil' Fluff Brush, sprinkle Ice Premium Pretties over the uncured design, and cure.
Dust off the excess.