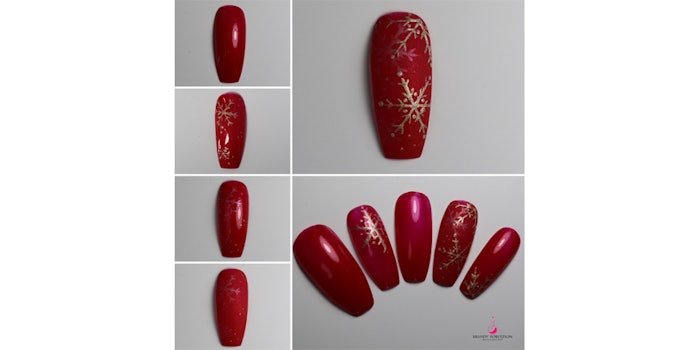 Courtesy of Brandy Robertson, @naileditbybrandy
'Tis the season for nails set with snowflakes, snowmen, mittens and more!
Check out this winter weather-inspired nail set by Brandy Robertson.
She is a licensed nail technician, esthetician and brand ambassador for Light Elegance.
She used Light Elegance's Winter Play Butter Cream collection to create the look.
Apply one coat of Snowshoe For Two ButterCream, and cure.
Using Gold Metallic Buttercream and a Stripy Brush, draw a couple snowflakes.
Add a few random dots using the #1 Bling Stylus, and cure.
Next, dry brush Snowshoe For Two ButterCream over the snowflake, and cure
Apply Flat Matte Top Coat, and cure.
Remove the inhibition layer, and draw a couple more snowflakes with Gold Metallic ButterCream. Then double cure.