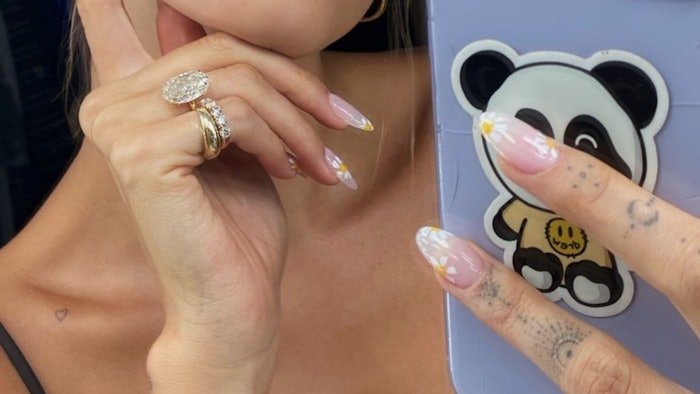 Courtesy of @haileybieber
It's summer, so it is fitting that daisy nails are making a comeback right now.
Stars like Hailey Bieber, Katy Perry, Lizzo and Gigi Hadid have all rocked daisy-themed nails.
Daisies have been springing up on multicolored and monochrome French tips, around the nail bed, as accent nails and as the tips themselves.
Check out this how-to of Hailey Bieber's daisy nails by celebrity manicurist Kimmie Kyees:
Grab a bobby pin and open it up so that it becomes semi-straight. Because bobby pins have those little balls at the end, they make for solid, makeshift dotting tools, or you can use a toothpick as an alternative.
Start to paint petals by dipping one end of the bobby pin into a white polish, and create a circle of dots—aim for six or seven dots.
Slightly lift the pin, and drag each white dot toward the center of the circle.
With the other end of the pin, take a yellow nail polish, and place a dot in the center of each white circle you created.
Leave a bit of drying time in between to prevent the yellow polish from bleeding into the white.
Related: Meet Our Favorite 2021 Trend: Daisy Nails