CND partnered with Michael Halpern on the designer's spring/summer 2021 collection, which focuses on eight fearless women from across the public service sectors.
The collection featured two looks for each muse and her work during the COVID-19 pandemic. To complete each look, lead nail tech Marian Newman selected vibrant hues from CND. Her inspiration was to "match the uplifting, bold and vivacious nature of this collection."
"I love working with Michael and have done for several seasons, but this collection was extra special. He invited frontline workers in many different professions from a gynecologist to a train driver to a domestic in a COVID ward. They were all fabulous and fascinating and we were able to really tap into their inspiriting personalities with the extensive color range that CND™ has to offer," Newman said.
Get the Look: Pink Polka Dots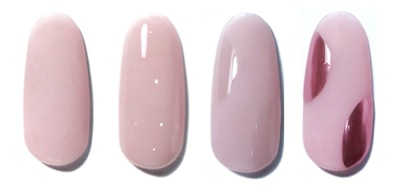 1. Apply CND Shellac Wear Extender Base Coat and cure.
2. Apply two coats of your chosen shade to compliment the skin tone (we used Blush Teddy or Satin Pyjamas) and cure between each coat.
3. Apply CND Matte Top Coat and cure. Wipe with d.sperse.
4. Draw circles/polka dots on each side of the nail with Lecenté Layer It! and cure.
5. Rub Lecenté Rose Gold Chrome Powder into the Layer It! using a silicone tool or sponge.
6. Remove the excess powder with a soft brush.
7. Seal only the chrome polka dots with the CND Shellac Original Top Coat, leaving the rest of the surface matte and cure. Wipe with d.sperse and finish with a dash of CND SolarOil.
Credits:
Fashion: Halpern; Stylist: Patti Wilson; Art Direction & Set Design: Shona Heath; Hair: Sam McKnight; Nails: Marian Newman with CND; Director and Producer: Minnie J. Carver; Photographer: Chris Sutton; Interview questions: Kin Woo; Director of Photography: Arthur Loveday; Makeup Artist: Terry Barber; Shoes: Christian Louboutin for Halpern; and Jewelry: Irad Moini.
Key workers:
Arianna, Sister ITU, NHS / Senior Staff Nurse, Homerton Hospital; Odiri, Trains Manager, TFL; Ghalia, OBGYN, NHS; Sarah, Cleaning Services, NHS, Homerton Hospital; Latifah, Train Operator, TFL; Aziza, Night Bus Station Controller, TFL; Chevonese, Health Care Assistant, Kare Plus Croydon; and Caroline, Volunteer Organiser of PPE Manufacturing.