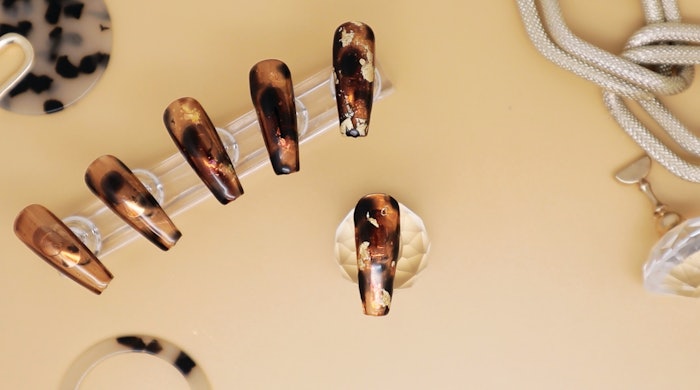 Tortoiseshell print, much like its leopard cousin, has been welcomed into the fashion fold as a neutral that is suitable for nearly all occasions. As such, tortoiseshell nail art is a chic choice that clients can rely on to turn heads. Nail artist Tina Van created a gilded tortie set that packs a stylish punch.
Products Used:
Glass Brown Gel Polish
Glass Gel Polish
Glass Orange Gel Polish
Black Gel Polish
Opal Flakes
Foil Transfer Base Gold Transfer Foil (optional)
Top Coat
Gel Brush
STEP 1: Mix equal parts of a glass brown, red and orange gel polish, and apply a coat of this tortoiseshell mix onto the nail. DO NOT CURE.
The following combinations will also create a sheer tortoise color: (1) red, yellow and a clear base coat OR (2) orange, brown and a clear base coat.
STEP 2: Using a small art brush, dab black splotches on the first wet coat, and allow it to sit until the black disperses to your desired look. CURE for 30 seconds.
STEP 3: Apply opal flakes onto the tacky surface in the negative spaces in between the black spots.
STEP 4: Apply a second coat of the tortoiseshell mix. DO NOT CURE. Dab black gel polish over the previous spots in a staggered pattern (see Pro Tip), then CURE for 30 seconds.
OPTIONAL STEP: Apply foil transfer base, cure for 30 seconds, and then apply gold transfer foil.
STEP 5: Apply top coat, and CURE for 60 seconds.
About the Artist:
Tina Van is the master nail artist at Nail Gloss salon located in Sterling Heights, Michigan.
For a step-by-step video, check out Nailpro's March 2022 digital magazine.