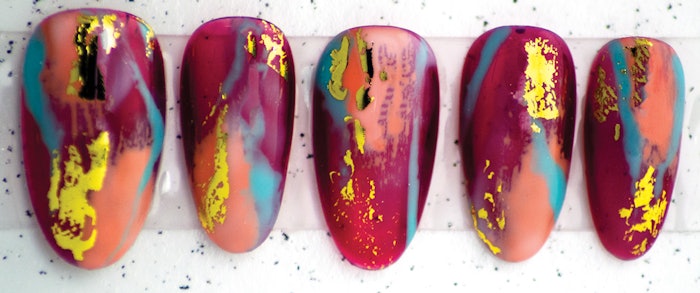 With traditional spring break plans up in the air this year, channeling those tropical vibes is a mani must.
Abstract Tropical
"I was inspired by the mix of bright colors found in Mexican folk art, particularly the Papel Picado garland and the vacation I wish I was on," Rachel Messick (@rachel.messick) explains.
Products (all on Aprés Round Medium Natural Tips, size 1, 4, 3, 4, 6)
Step 1: Apply two coats of Nail Thoughts x Kokoist Gel color in Spritzer (I think this color is going to be major for summer, it's like the more sophisticated but fun single aunt of the neon jelly nails). Cure between coats.
Step 2: Swipes of Kokoist Gel Color in E-126 Milky Coral, I use the Nail Hub Comb Brush. Cure.
Step 3: Gentle pats of Presto Gel Color in #3 (sheer milky white) swept off set of the coral swipes. Cure.
Step 4: Added contrasting abstract details using Luxio Colour Gel in Engagement using Nail Partner x Mananails Paint Brush (this brush may be limited edition, so feel free to omit if you're listing tools- a similar brush would be Presto Medium Liner). Cure.
Step 5: Gently press gold foil onto the inhibition layer and add top gel and cure. I used BioSeaweed No-Wipe Top Coat.
*Cure after every gel application unless otherwise noted.
For Messick's "Gilded Ceramic" look, check out Nailpro's March/April digital magazine.
Video Tutorials
Messick created two video tutorials to help nail artists bring the spring break vibes to life. Be sure to check them out below!