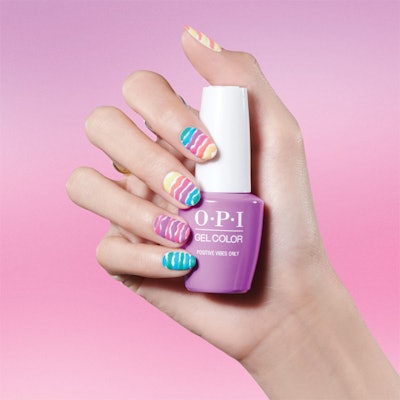 Bright, playful hues from the newly released OPI Neon collection are a summertime must. The six vibrant shades, available in GelColor, Infinite Shine and Nail Lacquer, are perfect for creating watercolor, marble and tie-dye effects. Here, we created a gel polish rainbow design just in time for beach season.
RELATED: OPI Celebrates Little Tokyo Mural with Spring Polish Collection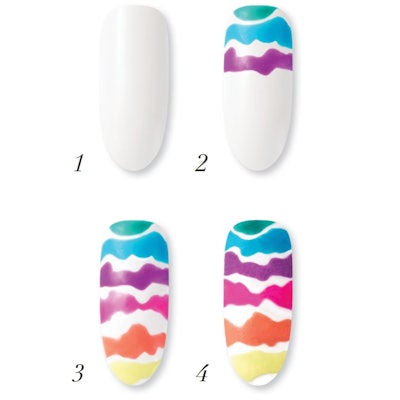 1. Prep the nail and apply GelColor Base Coat. Cure for 30 seconds under an LED light. Apply two coats of Alpine Snow, and cure each coat for 30 seconds. Apply Chrome Effects No-Cleanse Top Coat. Cure.
2. Use a nail art brush to paint wavy lines with Dance Party 'Teal Dawn, Music Is My Muse and Positive Vibes Only to the top half of the nail, making sure to leave even amounts of white space between each shade. Do not cure.
3. Use a nail art brush to paint wavy lines with V-I-Pink Passes, Orange You a Rock Star? and Pump Up the Volume from the center of the nail to the free edge to create a tie-dye effect. Do not cure.
4. Sprinkle Clear Color Set Powder over the entire nail. Tap off the excess, but do not brush off the powder. Cure for 60 seconds under an LED light. Then, brush off the loose powder.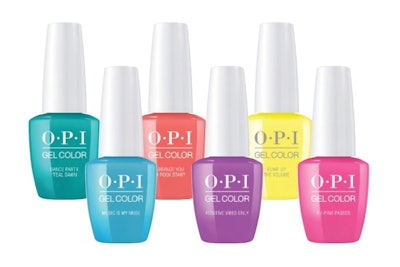 –by Angelina Lewis
This story first appeared in the June issue of Nailpro magazine. To receive the magazine, click here to subscribe.
[Images: Courtesy of OPI]