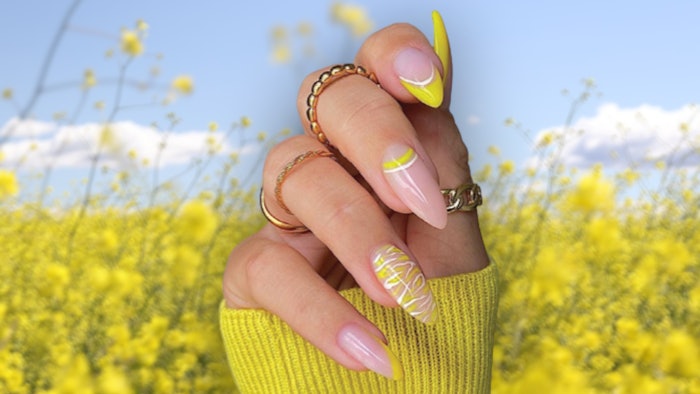 Courtesy of Nail Perfection by Natalie
Wedding bells are ringing! As the spring season hits, so does the bridal season. This means many bridal parties will be looking to get their nails done for the big day.
This season, minimalist nail art seems to be all the rage, but the possibilities are endless for how to showcase your skills and create looks that match a season of growth and new life.
We worked with Natalie (@nailperfectionbynatalie), who is a nail artist and salon owner based in the U.K. In the future, Natalie would like to go into education to help others learn and develop in their career. Because she has a passion for education, we asked her to share her favorite and go-to designs and discuss trends and tools for nail art.
Natalie started out in the nail industry in 2004 after her mother suggested she take a nail course because she was always interested in arts and drawing.
"I remember when I was younger I used to always paint my nails metallic silver and glitter. I ended up doing a few nail courses and brought a second hand nail kit so I could practice more at home," Natalie recalls. "My friends and family were so supportive and used to sit with me for hours."
Originally Natalie worked a full-time job, but as her mobile services began to pick up, she handed in her notice and became self-employed. For a year, she rented a nail desk at a beauty salon, and then eventually an opportunity arose for her to have her own salon.
"My mum worked with me, and I used to spend hours sitting and painting nail designs in the shop while I was building up my business," Natalie reflects. "I soon realized I needed more people to work with me too and offered out my desks to rent."
Natalie is now celebrating her 19th year in the nail industry and owns her own salon Nail Perfection by Natalie.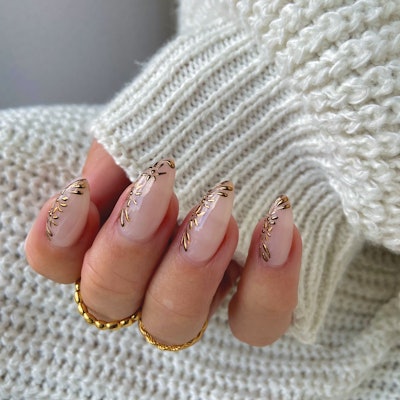 Q&A: 
NAILPRO: What is the inspiration behind each nail set?
Natalie: My inspiration comes from social media, nail trends and seasons. Sometimes I can wake in the middle of the night with inspiration for a set I would like to do next.
NAILPRO: What do you like most about creating spring/bridal nail sets?
Natalie: When it's one of my clients, I like to come up with a few designs we can try in the run up to the wedding, depending on their style and theme of wedding. Spring and bridal sets to me are always nude or pastel shades, with subtle shimmers and chrome finishes.
NAILPRO: Do your clients come in with inspiration photos, or do you decide on a design on the spot/as you create? If so, how do you decide what to design?
Natalie: Sometimes my clients have inspo photos, and we will pick and choose a bit from each photo, other times we have a chat and throw a few ideas around first, color schemes, patterns or something more minimal. I then sometimes decide on my design as I go, adding more detail if the client wants more. 
NAILPRO: Do you have any tips or tricks for any of these sets?
Natalie: Always buff over your surface for chrome work, and keep your brush light for thin lines. Buff out any imperfections before you apply color or top coat.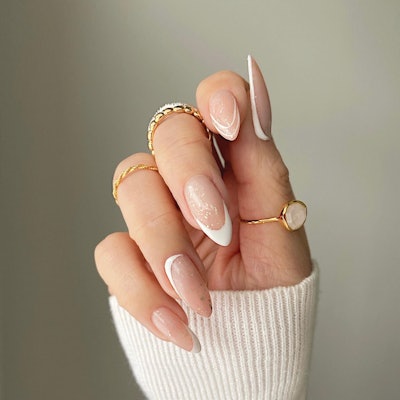 NAILPRO: What are your top tools for creating spring/bridal nail looks?
Natalie: Soft shades and minimal nail art are always key. Always have a good detail and liner brush to hand, a dotting tool, foils and chromes.
NAILPRO: What is your favorite medium for nails in general?
Natalie: My favorite mediums are gel polish, gel colors and pigments. They are always so versatile with unlimited designs to be created.
NAILPRO: What are your most popular services?
Natalie: Always a gel manicure, but recently a micro-French seems to be on the rise again.
NAILPRO: What do you think will be popular for the spring/bridal season?
Natalie: Definitely chrome/glazed nails, with subtle shades in creams and nudes.