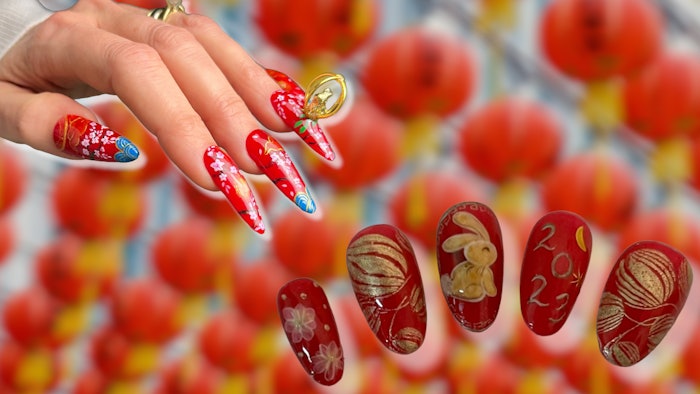 Courtesy of @topnailtech and @karymar_nails_artist
Happy Lunar New Year!
2023 is the Year of the Rabbit! 🐇
The fourth animal in the Chinese zodiac, the rabbit symbolizes grace, beauty, mercy and good luck. To celebrate this Lunar New Year, we're sharing rabbit-inspired nail art submitted by our readers! Stay tuned for more rabbit-inspired nail sets in Nailpro's March/April 2023 issue. 
Thank you to everyone for your submissions. We are so inspired by your creativity and the thoughtfulness you put into your work!
Lunar New Year Nail Art
Nailpro cover artist Cathy Torres (@topnailtech) created the striking set below using products from Bio Sculpture USA, including the bold Pillar Box Red. Her design incorporates wood and water elements with Azure Blue and Apple Green elements for luck.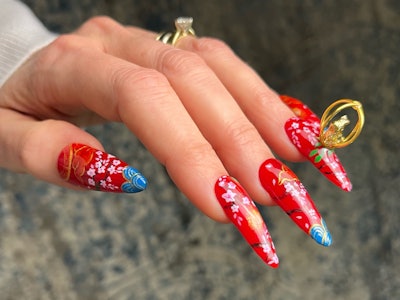 @karymar_nails_artist's delicate gold and red Lunar New Year-inspired set below features Chinese lanterns, the perfect way to celebrate The Year Of The Rabbit, which also symbolizes peace, prosperity and relaxation.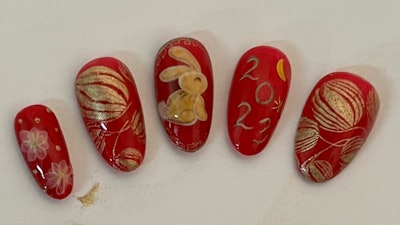 Robin Renee's (@nail.art.snob) breathtaking set below features the traditional Chinese character for the Rabbit zodiac, symbols for prosperity and luck, and tiny gold rabbit silhouettes. She used traditional red and gold colors in her design to represent health, wealth and good fortune.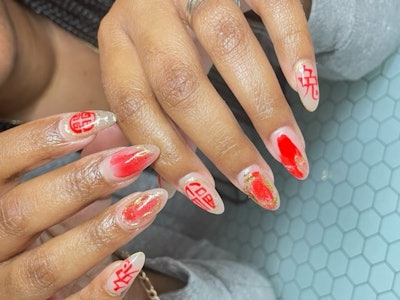 Nail tech Michelle King's (@paintedpolishednpretty) gold, red and black design also features gilded rabbits!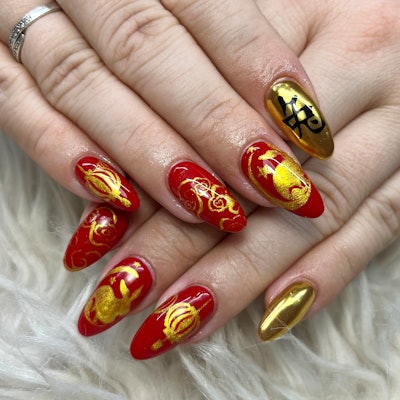 Nail artist Estasha @heartandsolnails created these hand-painted White Rabbit Lunar New Year Nails inspired by a limited-edition pin set by artist James Jean. Check out more of her design below!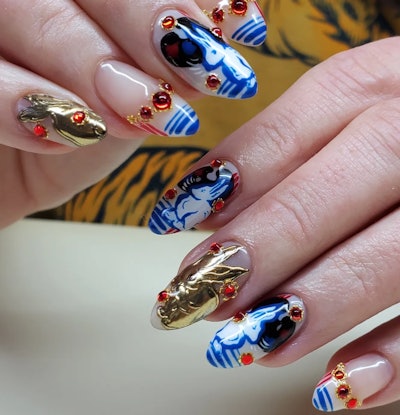 Happy Lunar New Year to all! 🐰 
Follow Nailpro on Instagram and subscribe to our free daily newsletter to receive the latest news for nail professionals.