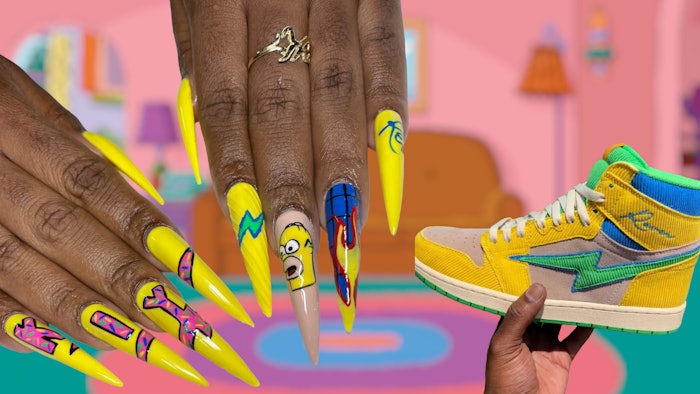 "There's only one thing to do at a moment like this: strut!" 
When her client was short on ideas for her newest nail set, Houston, Texas-based nail tech Christie Schobel (@clutchcityclaws) had to improvise. The result was this truly inspired, bright yellow set that honors sneaker culture, Homer Simpson and donuts to boot!
Schobel told Nailpro, "My friend is a sneakerhead to the core. She came to me with absolutely no ideas but was totally against getting Christmas nails."
Thinking on her feet, Schobel asked her client to show her their favorite sneaker, and her client pulled up a photo of the Reves Paris Air Kiy Homer Limited Edition  sneakers, designed by Kool Kiy.
The bright yellow, blue and green colorways of the shoe reminded Schobel of The Simpsons, and that's all it took for her paintbrush to get to work! 
Schobel said it took her about four hours to complete the set, adding that it would normally take her two-and-a-half hours, but she took more time to enjoy catching up with her friend. She charged around $125 for the set. 
"I feel like I am more than fair with my prices because at the end of the day, I wish everyone would let me express my creativity on their fingers. I'll take characters and art any day over French and typical Pinterest designs," Schobel said.
"Art is the main reason I started doing nails, so any time someone gives me the reins, I go all out on their tiny canvases."
We admire Schobel's ability to improvise her design ideas and deliver to her a client a truly one-of-a-kind set. 
Keep scrolling to see Schobel's finished nail set that pays homage to America's favorite family, The Simpsons. 
About the Artist: Christie Schobel, a self-proclaimed "freestyle queen," specializes in hand-painted, over-the-top nail designs. Based in Houston, Texas, she reps her town under the moniker Clutch City Claws.
Follow Nailpro on Instagram and subscribe to our free daily newsletter to receive the latest news for nail professionals.