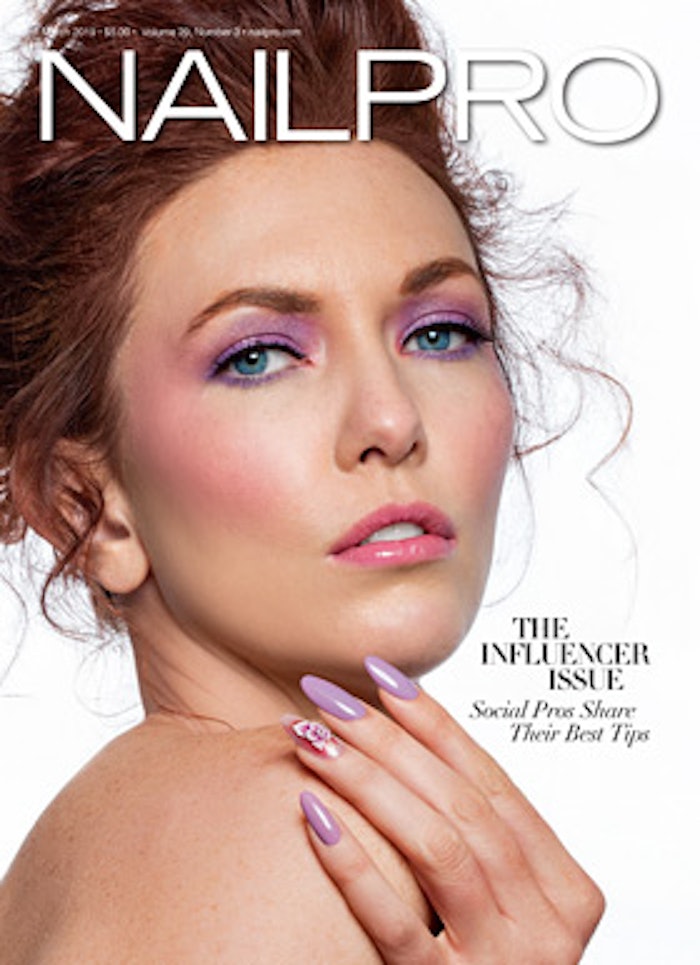 When it comes to spring color collection trends, they often go one of two ways: bright and cheery or soft and muted. This season, it's the definitely the latter, as we see teems of wonderfully subtle pastels appear in every hue. To be sure, Morgan Taylor and Gelish didn't miss the memo, as their spring 2019 collection— The Color of Petals—flourished with toned-down blush, peach and plum polishes. Dynamic duo Danny Haile and Vu Nguyen, Gelish CEO and dean of education, respectively, joined us in studio this month to put their stamp on this trend. First, they expertly extended our model's nails with Hand & Nail Harmony ProHesion Liquid + Powder over tips for an extremely natural look. Then, they polished all but the ring fingers with lilac cream Merci Bouquet. Next, they coated the accent nails with subtly shimmering pink Follow the Petals. And the coup de grâce? Haile and Nguyen tag-teamed a 3-D bloom once the nails were dry: Haile sculpted the flower and Nguyen hand-painted it with custom-blended Gelish Art Form Gels for a realistic finish.
[Nails: Danny Haile & Vu Nguyen, Gelish; Photography: Cory Sorensen; Makeup: Johny Saade; Hair: Christophe Saluzzo; Model: Amanda Fields, Body Parts Models; Digital Imaging: Art Vasquez, RP Digital]
This story first appeared in the March issue of Nailpro magazine. To receive the magazine, click here to subscribe.