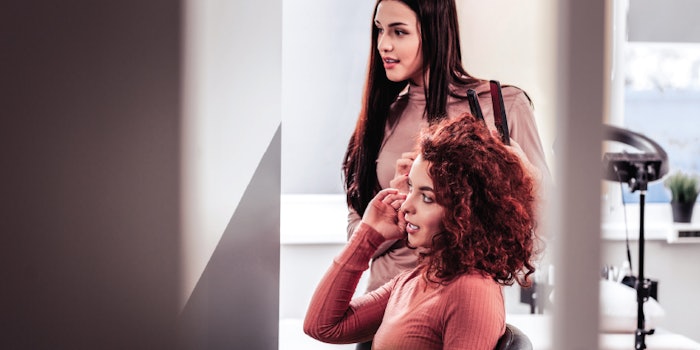 While the beginning of the year tends to herald a slow season for salons, it is the perfect time to put focus on the guests that are in your chair. Yes, it is common practice to focus on what is lacking, but why stress over the blank spots in the appointment book? Instead, think about changing your mindset, so you can see those open spaces as opportunities.
Eufora business trainer Janine Argila uses this time to practice a few habits that will increase profitability—reconnecting with guests, refocusing on the consultation and making more money!
Argila shares the three most important habits to developing profitable consultations below. 
Habit 1: Hear Problems and Offer Solutions
If a guest is in your chair for a single process color, do you mix up their formula, apply it, set the timer, then go on to the next thing? If so, was there really any active listening involved? Step away from the easy "routine." If you heard that she wished her hair would not fade, did not feel so dry or look frizzy, you asked about her home styling routine or what conditioner is in her shower…maybe? And what did you do about it? 
Before the mixing even starts, take the time to really talk with your guest and ask good questions. Listen and HEAR their concerns, then offer your professional solutions. Starting off with a great consultation creates an opportunity for profit not only during the current appointment but also in future appointments, paying dividends for years! 
So, if the guest tells you their hair is feeling dry, ask a few more questions, and craft a custom solution right then and there. For example, "We will do your single process color today, but since you also expressed that your hair has been feeling dry, we should do a conditioning treatment which will help with the dryness, and then add a color glaze to smooth out your cuticle and add more depth." By simply hearing their wants, you can give them what they need, and increase your profit at the same time!
Habit 2: Set Your Client Up For Success At Home
Every stylist wants to be the beauty influencer for their guests. This means that, even when the guest is not sitting in your chair, they think about you as a "go-to" for all of their beauty needs. No memorable service is really finished when the guest leaves the salon. Your success hinges on what the guest does outside of the salon as well. Take the time to ask about any problems or challenges they feel they might encounter post-salon visit, then make sure they leave the salon with all the tools required to set them up for home care and style success. 
Begin the process the moment you start the consultation, and do not just tell them about the products. Pause occasionally during the service, allowing the guest to see, touch, feel and smell. Most of all share and show usage tips. Involve them in the process, and they will feel more committed and confident when purchasing and trying new things. 
Habit 3: Offer Maintenance with Commitment
Start with the end in mind, and plan for the full year. When you commit to an annual maintenance plan with a guest, not only does it create an enhanced level of expectation for them, it does the same for you. If you discuss long term hair goals, then you can create a plan for achieving and maintaining those goals. Now, not only are you ensuring a happy guest and a fabulous walking hair advertisement, you are ensuring many profitable future appointments. Commit. Be in it for the long haul!
Janine's best advice? "There is only upside when you use this time of year to reconnect with your guest and create a memorable experience, unforgettable from the moment your guest steps foot in your salon to the moment they leave. When you build a sense of trust through consultation and communication with a guest, it becomes the gift that keeps on giving behind the chair. Good habits will last you a lifetime and pay dividends throughout your career." 
For any stylist interested in learning more about Eufora Business Education, please visit eufora.net.