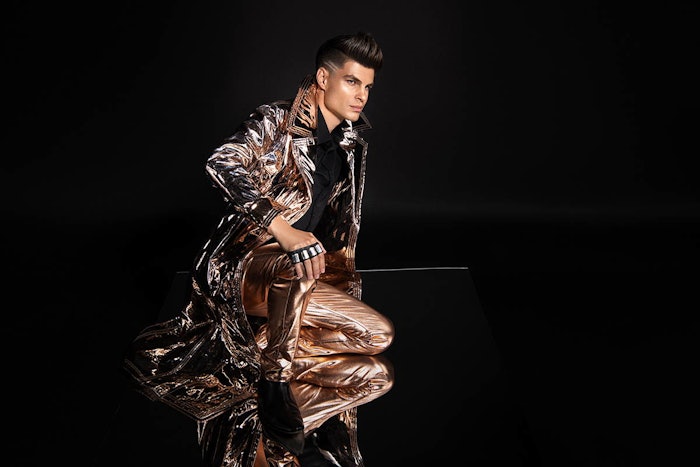 Courtesy of America's Beauty Show and the Ulta Beauty Pro Team Nick Stenson: @nickstenson Anna Manukyan: @amanukyan Sonya Dove: @thesonyadove Sean Godard: @seangodard Danielle Keasling: @danielle.keasling David Lopez: @davidlopezzz Michelle O'Connor: @michelleoconnorbeauty
America's Beauty Show (ABS) 2023 will be here sooner than you think! At a press conference in Rosemont, Illinois, on November 7, 2022, the team behind the legacy event celebrated all the exciting things to come at next year's show in April. Here's what you can expect if you plan on attending. 
In alignment with the show's theme "The Next 100," ABS CEO Frank Fulco described the event as "100 years in the making." For this reason, America's Beauty Show is going all-out for 2023. 
Taking place April 15-17, 2023 at the Donald E. Stephens Convention Center in Rosemont, the three-day show will be packed with educational opportunities, workshops, exhibits, competitions, roundtables, celebrations and entertainment experiences. 
As previously reported, America's Beauty Show is growing by partnering with The Makeup Show, which will be co-located at the event. 
The ABS Global Image Awards are also making a comeback next year with some changes. Submissions will now feature both photo and video components and all categories will be gender neutral. 
The show has also received a revamped look to celebrate its 100th anniversary, with gold being a central color in the show's aesthetic. Nick Stenson, the senior vice president of stores and service operations for Ulta Beauty, helped create the photo collection for the event alongside the Ulta Beauty Pro Team. 
Stenson said that the inspiration for the collection was to bring all the different crafts within the beauty industry together to form a united front. 
Not only will ABS 2023 look to bridge the gap between different industry crafts, but it will look to bridge the age divide in the industry as well. 
Before the press conference, America's Beauty Show and Cosmetologists Chicago teamed up to host a Master Class series. Celebrity stylist Cherry Petenbrink and TikTok sensation Theresa Van Dam headlined the event and hosted a workshop on vivid hair. 
Petenbrink spoke exclusively with Beauty Launchpad about her inspiration for the workshop, saying "I talked to Frank [Fulco] ... and we thought it would be really fun to do this show where we bridge the gap between veteran hairdressers and the new generation of young, TikTok social media influencers." 
She plans to continue working alongside younger hair artists for ABS 2023, telling us that she will be doing three cut and color classes at the event alongside Bryce VanDyke Adams. 
There is plenty to look forward to for America's Beauty Show 2023! Tickets for the event are on sale now.