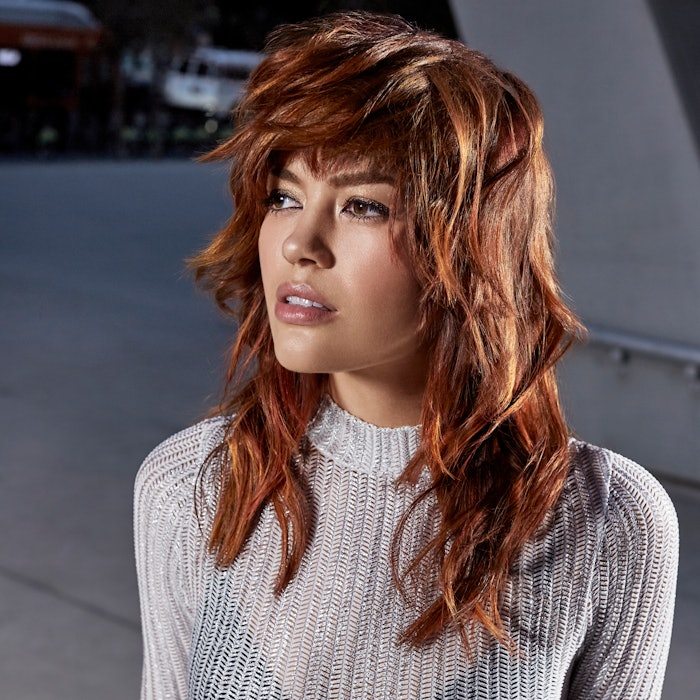 courtesy of Eufora
The color team at Eufora International shares their color expertise for the season, noting that fall/winter 2022 trend shades present a dichotomy of color with a non-conforming palette of contrasting tones. Vibrant, lively shades of rose violet and orange live in contrast with soft tones of nosegay pink and waterspout blue. Mid-tones of olive, burgundy and wood shades are also evident in fashion this season. 
How does this translate in the salon? First, it is refreshing to see the return of alluring dark natural-looking shades—rich, radiant, head-turning brunettes. Natural to warm reflection is popular to accent these darker levels. As timeless as platinum blonde may seem, even that hue is taking on a warmer reflection this fall, with gold, golden violets and ash gold shades appearing in fall blonde color palettes. In the mid-tone range, warm natural wood shades of caramel coppers and burgundy provide stylists with the opportunity to remaster their red skills. Once popular shades of soft lavender, pink and blue are now predominantly used as accents to bolder, richer natural-looking colors.
With a seasonal color palette that is this flexible, Joanne Rempel, Eufora color development manager, reminds us "...stylists need to defer to skin tone and eye color when customizing color. These are discerning factors when choosing the right shade, cool or warm for each guest, so the guest consultation step is critical."
What is the latest trend term?
According to Rempel, "This fall we are looking at 'recycled color.' Stylists capitalize on what remains of summer blondes and recycle the existing pre-lightened dimension into the rich warmer reflections of fall and winter. Hair color always evolves from one season to the next, and this season there is a useful purpose in that evolution. For example, our fall model started with a bold blonde balayage on level 4 hair. For her iconic fall look, we recycled her summer balayage to provide dimension for the addition of caramel copper and rich red copper on a dark level 4 root base." 
Rempel also shared this helpful tip: "Depending on how light the hair is and how dark a result is desired, color priming the hair may be necessary to provide a base that can support the new shade. Color priming, commonly known as color filling, is done with the application of shades of golds and coppers to replace the missing natural melanin with cosmetic pigment–hair color. If more than two levels of color are missing, then color prime. It is absolutely worth the extra time it takes to ensure an extraordinary result."
Note that the darker more significant dropped root area in this seasonal look from Eufora (shown) is a stark contrast to the spring/summer shadow root. Using a quilted, triangle placement provides broader strokes of dimension in the midshaft with shades that harmonize beautifully together to provide an earthy, rich and radiant look. 
Adding dimension is always important. It brings life and movement to the hair, no matter the level or shade. In creating any new favorite fall look, first consider what can be recycled with the existing dimension, then add lightness where it is needed–face-framing is still popular with the darker shades and tones. This process also offers a bonus, as the hair remains in better condition when you can recycle existing dimension and add lightening only where its missing.
Best advice? When it comes to placement, keep it strategic, keep it simple and recycle!