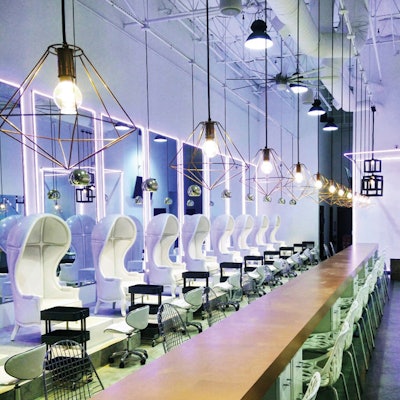 Co-owner Jade Tang welcomes Nailpro to her trendy Socal-based salon.
The Look
We want to get people excited about having their nails done by offering a new environment where they feel welcome and comfortable and can expect beautiful nails. Located in a bustling shopping center in Fountain Valley, California, Black File Nails merges chic mid-century modern design with an industrial vibe. From the concrete bar, matching floor and rose gold tabletops to the geometric pendants, neon lights and Victorian-inspired balloon chairs, we wanted to create an aesthetically pleasing, gender-neutral environment. Not only do we provide a fun salon atmosphere, but we also respect our clients' time. That's why we're primarily by appointment only. We want to ensure that clients never feel rushed.
Signature Service
Aside from our vibe and client care, we're also known for our beautiful and unique nail designs, large selection of gel colors and nail art
supplies, as well as our knowledge of the latest trends. Clients travel from all over to see our talented artists. Our most popular services are our hand-painted nail art designs and acrylic nail enhancements. Our starting cost for a full set of acrylic with gel color is $50 and goes up from there based on the length of the nails. Depending on how intricate the service is, clients can spend anywhere from one to four hours with us. We also offer other types of nail enhancements, such as dipping powder, Aprés Gel-X soft gel extensions and hard gel.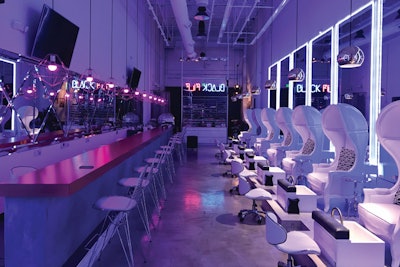 The Goods
Quality work requires quality products. We choose professional salon-grade products that are highly rated and safe for clients, as their nail health is our top priority. Some of the brands we love are OPI, CND, Young Nails, Tammy Taylor, Akzéntz and Swarovski. We also retail after-care packages from Famous Names that include Dadi' Oil, Luxury Dadi' Lotion and Dadi' Scrub. We believe retail is an integral part of any salon business and adds another dimension to clients' overall experience. We're always exploring the market to find new brands and products to add to our salon.
The Outreach
We participate in charitable donations with the Fountain Valley Police Department and provide discounts to Fountain Valley High School students.
Social Life
The social platform that's been the biggest help has definitely been Instagram. We're able to create beautiful nails and artwork and share them with millions of people instantly. It's helped people find our work and pass it along to friends, family and more. We're in a society where everyone just loves sharing their favorite findings.
Up Close with Jade Tang
What was your first job in the nail industry?
"I've always been a nail technician—15 years and counting."
What inspires you?
"I admire boss ladies who own multiple businesses and have young families, but can still manage to bang it out like nothing can stop them."
What was the most challenging thing that happened while opening Black File?
"Continuing education to advance specific skill sets is very important to me, but my first beginner acrylic training session with my team members didn't go according to plan. Some found it so difficult that they wanted to give up, and some even cried from frustration. But I'm glad I didn't give up on my squad, and after a few months of sweat and more tears, we all saw that the time and effort we put into it were
worth it."
What's your best advice for new salon owners?
"Always remember that clients want a clean salon and educated nail technicians who truly know what they're doing. Bottom line: Clients are looking for nail professionals who they can trust and who can help nurture their nails while offering beautiful designs."
I can't discuss Black File without…
"Thinking about which nail art supplies to buy next!"
Details
Owner: Jade Tang
Est.: 2015
Staff: Twelve commission-and hourly-based employees
Benefits: Free advanced education and social media marketing classes