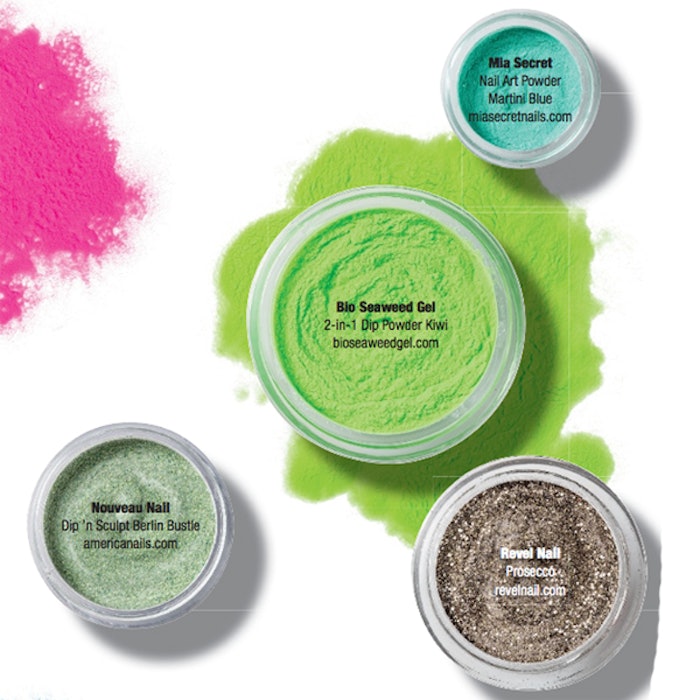 Brand leaders and top nail techs share insider secrets on how to achieve the perfect dip powder manicure.
Call it the comeback kid. Dip powder isn't new, contrary to some common misconceptions. The service has been around since the 1990s, though it fell out of favor as other options bounded onto the scene to steal the spotlight. But now dip powder nails are back and better than ever, thanks to improved formulas and a slew of on-trend colors to choose from. We asked industry experts to share their tried-and-true tips for working with dip. Read on for practical advice on everything from preapplication practices to safe removal, plus the worst service faux pas a tech might make.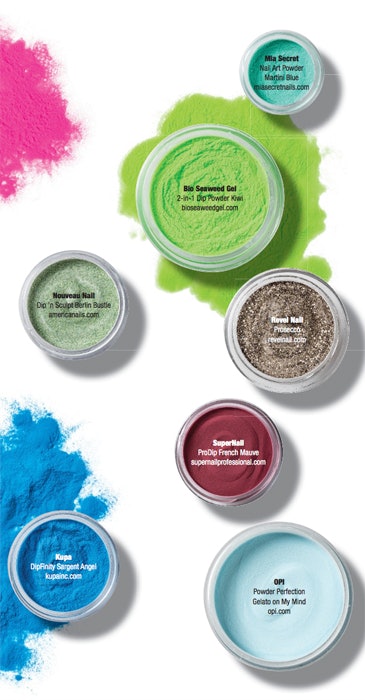 1. Water, Water, Nowhere: "Sanitize your client's hands by cleaning them with a lint-free wipe, and avoid washing during the service. Dip systems don't interact well with water, as it can result in excessively long dry times or uneven shine." —Hoang Lefty, educator, SuperNail
2. Safety First: "Because dipping powder tends to be far finer than acrylic, plunging in can create airborne dust. I cover my workstation with a damp towel to eliminate some of those particles. Keeping both clients and techs healthy is most important." —Tommy Phan, educational consultant, EzFlow
3. Oil-Free: The Way to Be: "For a long-lasting dip powder mani, you must first rid the nail plate of oil. Create a rough surface, and remove the natural shine with a medium-grit file. Then, apply a bonder or dehydrator." —Clarissa Leon, marketing director, Kiara Sky
RELATED: Strengthen Your Gel Polish Services with Dip Powder Overlay
4. Shake, Rattle and Roll: "Dip powders tend to separate over time. To avoid dreaded blotchy color, shake and roll the jars before use. Storing them upside down can also help; when you flip them over, gravity naturally mixes the contents." —Hellen Luu, educator manager, Bio Seaweed Gel
5. Get Greedy: "Being a hoarder is OK when it comes to brushes. A blown-out, fuzzy acrylic brush is your best dip friend and can also pull double duty as a blending brush when doing ombré with dip powder. Just be sure it's squeaky clean." —Jess Alexander-Snyder, educator, Kupa
6. Base-Ic Knowledge: "Before jumping into color, apply the base layer by only painting the middle of the nail. Leave 10 percent of the space below the cuticle unpainted, as well as both sidewalls, and then use a natural or clear dip powder. This technique helps give the nail a C-curve, strengthening
the nail plate while making cuticles look less thick. —Hellen Luu, educator manager, Bio Seaweed Gel
7. Less Equals Success: "In the dip powder class I teach, students almost always start by applying too much base and top coat, which can lead to uneven surfaces and make it difficult to remove later." —Jason Rivera, educator, SNS
8. Think Thin: "Apply the first dip layer halfway up the nail, leaving a small margin at the sides. With the second coat, apply a little farther back and closer to the sidewalls. The third and last coat should cover the entire nail surface. This helps build a natural-looking shape, with an arch from cuticle to free edge and sidewall to sidewall. It also ensures a thin application around nail perimeters." —Allie Baker, global brand ambassador, EzFlow
RELATED: Two Female Entrepreneurs Launch Their USA-made Dip Powders
9. Slow and Steady: "Base coats are typically formulated with short chains of a reactive monomer called ethyl cyanoacrylate. Once you apply it and dip a nail into the color powder, you must allow the base coat to absorb that powder. Move to activator too quickly, and you're likely to harden your brush. Just as the activator cures the color coating, so too might it cure a brush if that tool makes contact with a wet base-coat layer." —Sigourney Nuñez, North America education manager, OPI
10. Don't Double Dip: "Sanitation concerns are currently causing some salons to avoid dip powder treatment, because it's possible to spread nail infections by having multiple clients dip their fingers into the same powder container. But cross-contamination is easy to avoid. Pour powder into a smaller, separate dish for each customer, then use a spatula to sprinkle it onto nails, instead of having clients dip in themselves. That gives you more control over the product you use on each guest—and puts customers at ease." —Mya Vo, educator, Christrio
11. Wipeout: "To keep your base or top coat from drying up, wipe your brush after each use—don't skimp! Dip powders can stick to brush bristles and contaminate the product." —Hoang Lefty, educator, SuperNail
12. Clear Choice: "Apply a coat of clear dip powder after the first two coats of color powder. I recommend this tip especially when using glitters or working with designs. It gives the color, glitter or nail art an extra layer of protection when filing or buffing." —Itzel Redondo, marketing coordinator, Revel Nail
13. Activate With Care: "Activator is used to harden the powder and seal in color, but don't overdo it. Excessive amounts may cause hairline cracks in the enhancement." —So Yong Yu, lead educator, La Palm Spa Products
14. Cleanup Crew: "After the powder has set, right before applying top coat, clean up the nail edges. Carefully line up a thin, dull file with the perimeter of a nail, and gently glide it against the rim and cuticle line. Remember to use a light touch, because though powder may be set, it hasn't yet been locked in with top coat. Sliding rogue clumps away from the nail plates is especially important when working with glitter." —Jess Alexander-Snyder, educator, Kupa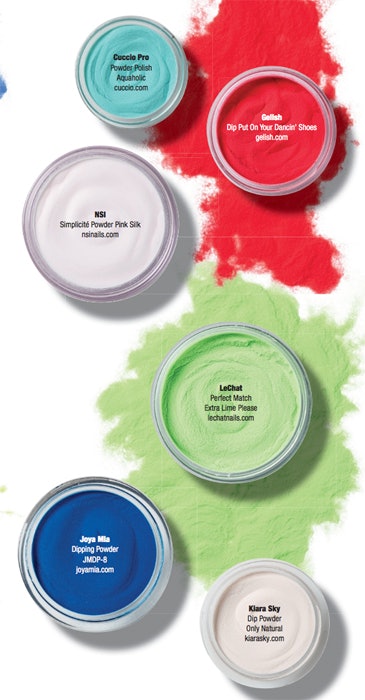 15. Bright Smiles: "When dipping a French manicure, I hold the nail in the white powder for three to five seconds to absorb as much of it as possible. That makes the smile line sharp, white and bright." —Lisa Boone, principal educator, Artistic Nail Design
16. Get Artsy: "Dip is one of the easiest and best mediums for creating ombré nail art. Sprinkle the first color around the cuticle area, going heavy on powder near the cuticle and lighter toward the free edge. Remove the excess powder, and then dip into the second color. With the second coat, I reverse the order: Start with color two, followed by color one." —Robert Nguyen, creative director, Entity Beauty
17. Less Smell is Swell: "Here's some good news to share with clients: There's less odor in a dip application than traditional acrylic. That's due to the acrylic polymers found in powders, which contain larger molecules and produce lower odors." —Leaha Franks, educator, Backscratchers Salon Systems
18. Easy, Not Breezy: "When finishing a dip tip, it's essential to avoid direct air currents blowing from a fan or air-conditioner vent. It can cause the top coat to wrinkle." —MaeLing Parrish, dean of education, Artistic Nail Design
19. Maintenance Matters: "Opt for a fill if a client wishes to keep the same color. To fill in regrowth with identical dip powder, use an e-file to remove 50 percent of the product and any areas that have lifted. Prep the exposed natural nail, then reapply product: first in one layer over entire surface, followed by a second coat of base." —Tommy Phan, global brand ambassador, EzFlow
20. Liftoff: "This system is easier to remove than others, since it uses cyanoacrylate, which is more sensitive to solvents. Dip also doesn't form cross-linked polymer structures, and therefore wipes off quickly. Wrap each finger in solvent-saturated cotton using the foil method. (Resist the temptation to peek!) Slip the client's hands in plastic gloves, like the kind used for paraffin treatments, and then cover them with a hot towel for five minutes. Heat activates the acetone for accelerated elimination. Dip powder should slip off easily, leaving behind clean, healthy nails." —Risé Carter, director of education, LeChat
Bonus Tip! "Short on paraffin gloves? Try poly gloves, typically used for food handling, during the dip-removal process. Invest in extra-large pairs that can easily slip on and off any size hands." —Helen Cao, educator, NuRevolution
–by Francesca Moisin
[Images: Courtesy of Brooks Ayola]
This story first appeared in the July issue of Nailpro magazine. To receive the magazine, click here to subscribe.