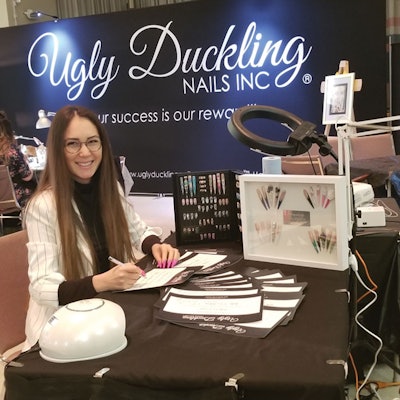 Following the success of their second annual 5K Education Summit, five Ugly Duckling Nails educators share the tools every student should have in her class kit and how to get the most out of education.
Ugly Duckling Nails recently hosted the second annual 5K Marathon of Education event in Victoria, British Columbia, Canada, attended by 100 nail techs from across the United States, Canada and around the world. During the two-week event taught by five Ugly Duckling educators, techs had the opportunity to hone their skills in a variety of techniques ranging from shaping, reverse French and crystal application to marbleizing, line work and gel polish art. "This event is an amazing opportunity for nail techs to finally meet in person and build forever nail tech families," says Ugly Duckling director of education and master educator Christina Cronk, aka Chrystacle. "The support in the room from all the attendees and educators was so uplifting and energizing and really showed the love everyone has for the industry." After the course was completed, Ugly Duckling educators, including Chrystacle and Natasha Harton (you can check out their work on the cover of the January 2018 issue of NAILPRO), shared the tools every student should have in her class kit, plus advice on how to make the most of any education experience.
RELATED: Discover Your Sun Sign's Best Nail Look With Our 2019 Horoscopes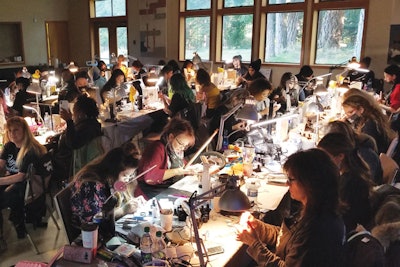 Class Kit Essentials
Files and Implements "Implements are a key part in refining and perfecting a nail shape," says Chrystacle. "Having a good- quality file that holds the grit without dulling too fast allows for easy and fast shaping."
Gel Paint "It's great for learning how to hand-paint nail art," says Chrystacle. "If you don't like the outcome of your design you can wipe the nail clean and try again!"
Tile or Mixing Palette "A good nonporous palette is a must," explains Ugly Duckling family member Helen Nguyen. "I use it for mixing colors and to saturate my striper brush for line work, and it helps to keep your work area clean and free from color stains."
Art Brushes The educators agree: Coming to class without brushes is like sitting at a desk without a pencil. Having the correct brush makes all the difference in learning about a new product or technique.
Brush Cleaner Both educators advise keeping brushes in top shape for the duration of a class with brush cleaner. It's great for certain art techniques as well as cleaning up any mistakes on the nails before curing.
RELATED: New Year Nail Designs Inspire Instagram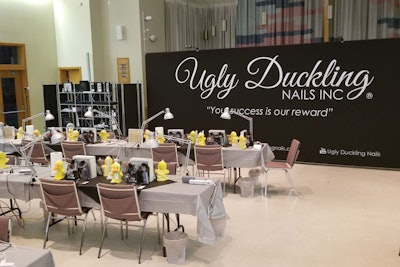 What's your best advice for students?
"It's important not to be too hard on yourself! I know what it's like to try to be perfect the first time you do something and feel disappointed if you're not. If we don't give ourselves a break, it's very hard to naturally allow our skills to develop. Remember, it's OK not to be the best at everything! Choose what you enjoy doing the most and perfect that skill." —Christina Cronk, director of education
"Bring your passion; without passion, you won't learn and you won't try." —Helen Nguyen, master educator
"Don't be afraid to try." —Madina Murieva, educator
"Keep learning and challenge yourself." —Priscilla Van Uden, ambassador
"You don't have to do everything. Focus on what you want to offer. Love hand-painting? Specialize in that. Love crazy embellishments? Make it your niche." —Natasha Harton, master educator
–by Lotus Abrams
[Images: Courtesy of Ugly Duckling Nails]